An unannounced and unbranded tablet has appeared on Google's Android promotional website, sparking rumours that it could be a new Nexus 8 device.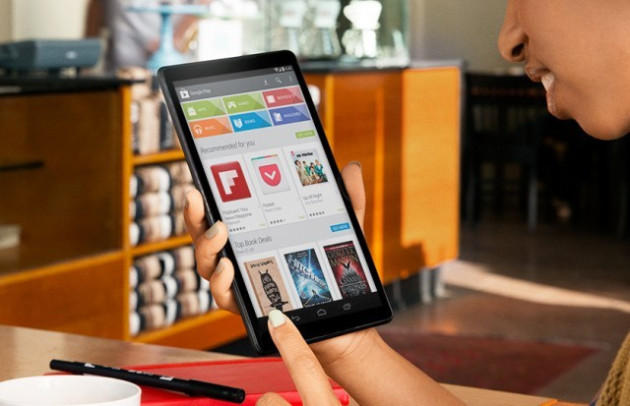 Just days after Google announced the Nexus 5 smartphone and its Android 4.4 KitKat operating system, the mystery tablet was spotted on the Android site.
This wouldn't be the first time an unannounced product has appeared in Google's own promotional material. The Nexus 5 smartphone was spotted in an Android video, held by an employee, weeks before the device was actually announced.
Google's Nexus 7 tablet was only recently updated, and although the larger Nexus 10 tablet is yet to see an update for 2013, the spotted tablet looks too small to be a replacement for the iPad Air rival. Instead, its screen looks to be approximately eight inches diagonally, making it slightly larger than the Nexus 7 and closer to the 7.9in iPad mini.
The tablet has very narrow screen bezels and is running the new Android Kit Kat software, but no manufacturer logos or markings can be seen. The device looks similar to LG's 8.3in G Pad, and as LG provides the hardware for Google's Nexus 4 and 5, it wouldn't be a surprise to see a Nexus 8 from the same manufacturer.
Certification
Furthermore, a device passed through the Bluetooth certification process at the FCC recently with the codename LG-V510, close to the G Pad's name of LG-500, suggesting the two devices are closely related, as are the LG G2 and Nexus 5.
The tablet could be a generic mockup, but ArsTechnica points out that Google has never used fake or generic devices in promotional material - the same page shows a photos of a girl using the Nexus 7 - so it would be strange for Google to use a mix of generic and real products in the same material.
If the device is indeed a future Google product, it seems the company is deliberately trying out a new promotional strategy, jumping on the 'leaking' and rumour bandwagon which drums up media coverage and anticipation for new products without spending money on conventional advertising or improving security around upcoming products.