Two new builds of Android 5.1.1 Lollipop have surfaced on Google's Android Audio Latency page.
Google measures and reports the audio latency so that Android app developers will have the data required to make an informed decision about latency available on actual devices, suggests the official site. Besides, by sharing the numbers for the Nexus devices, Google encourages the Android community to measure, publish and reduce latency on all devices.
The audio latency page now has references to Nexus 7 2013 model running on Android 5.1.1 build LMY47W and Nexus 9 on build LMY47S. Both the builds have been created on 16 February.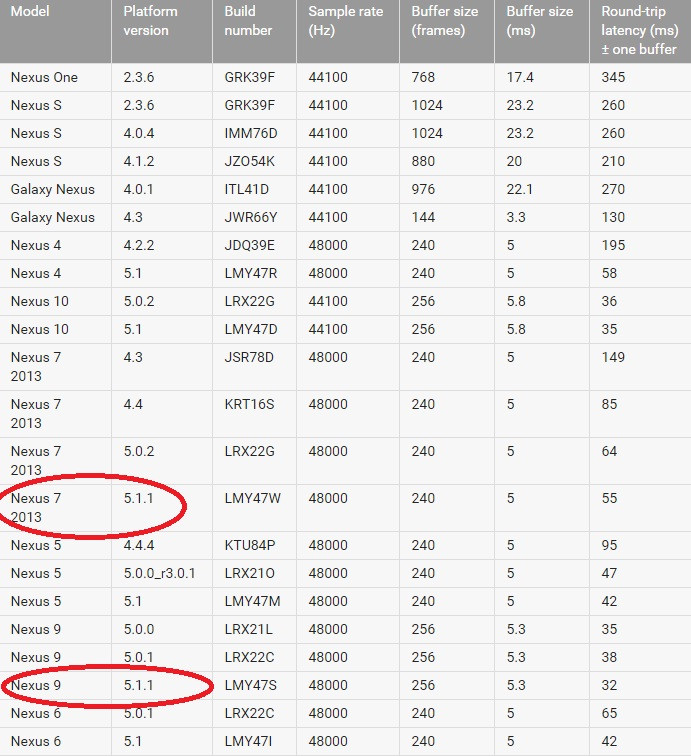 Besides, the Android SDK Manager on Android Studio, API22 includes reference to Android 5.1.1.
While the appearance of these builds on the official site suggests the existence as well as the availability of the aforementioned Nexus models, it is unclear if the official release will have similar build versions.
Google has already released the latest Android Lollipop version 5.1 for Nexus 7 2013, whereas Nexus 9 is yet to receive the firmware update. Google will hopefully bundle all the necessary fixes in Android version 5.1.1 for its 9in Nexus tablet codenamed "flounder".
This is not the first time the new Android version is appearing on the official site. Earlier this month, the SDK Manager showed up a new revision to the Platform SDK with a product description saying, "Android SDK Platform 5.1.1", suggesting Google has already finalised the code and is preparing for releasing the update.
[Source: Android Police]