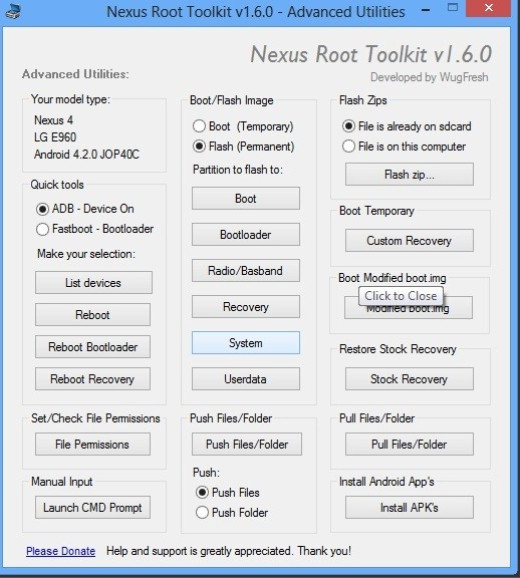 XDA developer mskip has followed the recent launch of Nexus devices with toolkits. That was improved by WugFresh, who has released the Nexus Root Toolkit v1.6.1, for a total of six Nexus devices.
Supported Devices
Galaxy Nexus: GSM models (yakju and non-yakju build)
Galaxy Nexus: CDMA/LTE (Verizon and Sprint models)
Nexus S: Worldwide, I9020T and I9023 models
Nexus S: 850MHz, i9020A models
Nexus S: Korea, M200 models
Nexus S 4G: D720 models
Nexus 7: Wi-Fi and 3G
Nexus 10
Nexus 4
Features
This version, the developer explains, will compile files needed to unlock, root and re-lock devices. In addition, users can also back up/restore data, flash zips, push and pull Android backup files and install apps. Check out the developer page for more details.
Download Nexus Toolkit - NRT_v1.6.1.sfx.exe
Instructions
Select appropriate device and build (the firmware presently in use)
Ensure drivers are configured
Ensure all data is backed up
Unlock and root device
Note:
Try other toolkit features; there are help menus explaining functions
Upload toolkit master lists: Help > About NexusRootToolkit.
[Source: XDA]