Neymar confirms summer talks to leave Barcelona amid PSG and Manchester United links
His agent Wagner Ribeiro recently revealed that player was close to the Ligue 1 side and Old Trafford.
Brazilian decided to snub those clubs to sign a new deal at the Nou Camp instead.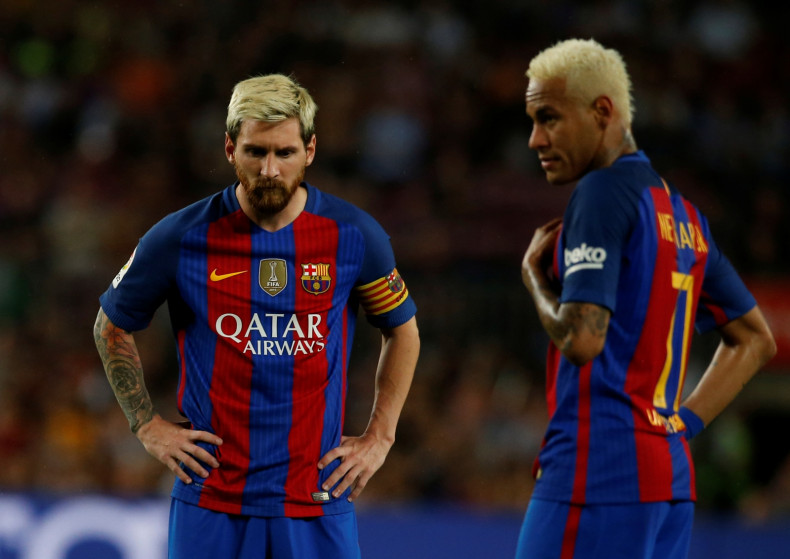 Barcelona star Neymar has confirmed that he held talks with some clubs during the summer transfer window before opting to renew his contract at the Nou Camp. The confirmation of the Brazilian star came days after agent Wagner Ribeiro revealed that the forward turned down lucrative moves to Paris Saint Germain and Manchester United despite the Ligue 1 side tempting him with a massive pay rise.
Neymar and Barcelona were involved in tough negotiations over a new deal through the last season after his father revealed that United tried to secure his services in the summer of 2015.
The speculation continued for some months. In June, Ribeiro urged the Catalans to act quickly, warning that there were three clubs ready to pay the player's former €190m (£161.3m, $213m) release clause to sign him.
Mundo Deportivo later reported PSG, Manchester United and Real Madrid were the three clubs in question.
However, on 1 July Neymar decided instead to commit his long-term future to the Catalans by signing a new five-year deal with Barcelona, increasing his release clause to €200m for the first year of his contract, €222m for the second and €250m for the remaining three campaigns.
Yet, last week Ribeiro revealed that the 24-year-old star was eventually close to joining the Ligue 1 side, while confirming that Manchester United also made a new attempt to lure him to Old Trafford.
"He was close to joining PSG," Ribeiro told ESPN Brazil. "He would have earned €40m a year net. "Neymar was also close to a spell at Manchester United, but he extended his contract to earn less at Barcelona because he wanted to stay at Barcelona."
Ribeiro added that Neymar eventually met with PSG president Nasser Al-Khelaifi in Ibiza earlier in June to discuss the move to the Ligue 1 millionaires. The Parisians, according to the agent, not only made him an offer to be the best paid player in the world but also offered a percentage of a hotel network and zero concerns over tax.
"I was me that brought Nasser Al-Khelaifi to Sao Paulo," Ribeiro said. "I said to Neymar that it was an offer out of reality, that he'd become the best paid player in the world and there would be no player earning more than him. We were talking for two hours and Neymar was enthusiastic. Nasser explained that there would be no fiscal problems at PSG and that he'd be the No.1 in the team, which isn't the case at Barça."
Neymar has now confirmed that he held conversations with some clubs but opted to stay at Barcelona because he is very happy at the Nou Camp.
Asked whether Ribeiro's revelations are true, Neymar confirmed during a press conference on Thursday 15 September: "Yes, we had many conversations with many people. But I've stayed at Barcelona because I feel at home here. I am very happy with my teammates and I am very happy with my life here. I support Barca. That's why I stayed.
"I cannot confirm (PSG offered me €40m a year) because I do not like to talk about figures. But I have already said that we talked with other teams. Not only with one. But I chose to stay at Barcelona. I am happy here, I hope to enjoy more of the city and, most importantly, in the pitch."