Neymar remains in contention for PSG vs Real Madrid despite surgery reports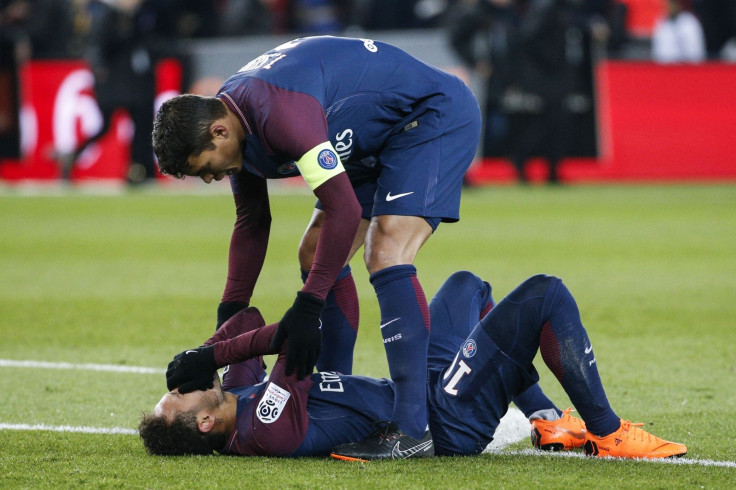 KEY POINTS
Reports in Spain have claimed the Brazilian will require surgery and could be out for two months.
Meanwhile, Real have learned that the second El Clasico of La Liga will be played on Sunday 6 May.
Paris Saint-Germain boss Unai Emery has refused to rule Neymar out of the crucial second leg of the Champions League last-16 against Real Madrid next Tuesday (6 March) despite reports in Spain claiming that the former Barcelona star will undergo a surgery on a broken foot.
The Brazil international was stretchered off in the final minute of his side 3-0 win over Marseille on Sunday after suffering an ankle sprain.
Emery attempted to play down the concerns of PSG fans, claiming that he was optimistic that the former Barcelona forward could recover in time for the crucial visit of Real.
"If I had to pick my Real Madrid side now, I would say that Neymar could feature," Emery was then quoted as saying by ESPN. "The first look says it is a sprain. There will be further tests to be totally sure. We are optimistic."
But his availability for the Champions League clash came under major question on Monday [26 February] after PSG revealed that Neymar not only suffered an ankle sprain but also a fracture to the fifth metatarsal.
"Further examinations on Monday (ultrasound and MRI) have confirmed a twisted right ankle and a hairline fracture of the fifth metatarsal," PSG said through an official statement in which they added that Marquinhos had been diagnosed with a "Grade 1 lesion of the left thigh."
Catalan Radio Station Rac 1 later reported that Neymar would require surgery to resolve the issue and the likes of AS and Cadena Cope supported that claim on Tuesday [27 February] morning.
AS said that sources close to Neymar had confirmed that the former Barcelona ace had decided to undergo surgery and could be out of action for around two months.
But Emery has said that the decision regarding the surgery is yet to be made and added that Neymar has not yet been ruled out of facing Real.
"Neymar is not going to be operated on, that's not true," Emery told reporters as quoted by Goal. "I talked to the doctors and we're still to make a decision.
"We'll see the passing of the next few days to make a decision. This is a moment of calm. There is a small chance for Neymar to be able to play against Real Madrid – we have to be patient.
"Now the most important thing is PSG. All the players are ready, and Neymar was the first to want to play all the games, focused to get to Real Madrid as well. But the focus of everyone is PSG."
Neymar has scored 29 goals and provided 17 assists in 29 appearance for PSG since arriving at the club from Barcelona for a world record €222m (£196m, $273.5m) [Sky Sports].
His absence against Real next week would therefore be major blow for Emery's side in their hope of overturning a 3-1 deficit from the first leg to progress through to the quarter-finals.
Meanwhile, on Monday night Real also learned that the second El Clasico of the season at Barcelona will be played on Sunday 6 May at 20:45 [19:45 BST].
Zinedine Zidane's host the first El Clasico at the Santiago Bernabeu on 23 December with Barcelona then securing an impressive 3-0 win thanks to the goals from Luis Suarez, Lionel Messi and Aleix Vidal.
And La Liga president Javier Tebas confirmed during an interview with Cadena Ser that the second game at the Nou Camp has been scheduled for a late kick-off to coincide with the American market.
"It will be at 8:45 on Sunday [6 May]," Tebas said to Cadena Ser. "The first leg was scheduled [at lunchtime] for the Asians, Spanish and Europeans market and the second is more for the more American, Spanish and European market. "
Real currently trail Barcelona by 14 points but El Clasico could still be decisive for the Catalans in their quest to win the La Liga title, with Atletico Madrid now only seven points behind and set to visit the Nou Camp on Sunday [4 March].