The NHS paid tens of millions of pounds in redundancy to staff it hired back straight away, sparking criticism over waste in the health service at a time of cutbacks coming in a week when junior doctors are about to go on strike.
Parliamentary questions by Labour revealed that 2,641 staff were laid off and rehired in the three years from April 2012 at a cost of £92m.
The cases included a married couple who received redundancy of almost £1m before moving into posts at the same hospital a few months later.
The costs stem from NHS reforms introduced by former health secretary Andrew Lansley which saw 161 NHS bodies abolished with hundreds of new ones being created to give doctors more independence.
But these quangos paid management consultants £150m, The Times reported, adding that the figures are a "conservative estimate" and did not include nearly 3,000 staff laid off and rehired before Lansley's Health and Social Care bill became law in 2012.
Shadow Health secretary Heidi Alexander said: "Patients left waiting for hours on end in A&E this winter will be rightly furious at these figures. If you want a symbol of the folly of the NHS reorganisation, then firing and rehiring managers must surely be it."
Katherine Murphy, chief executive of the Patients Association described the amounts as "eye-watering", adding that: "This is money that should be invested in front-line services. The government keeps saying they're cracking down yet time and again, we hear of fat payoffs."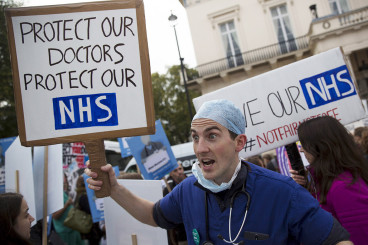 The revelations come in a difficult week for the Government with doctors leaders and ministers accusing each other on Sunday (10 January) of putting patients' lives at risk in a 24-hour strike across the NHS in England due to a dispute over new contracts that would allow hospitals to rota more weekend staff.
Regarding the strike, which would be the first by medics since the 1970s, Health Secretary, Jeremy Hunt, said that the Government was going through the "exhaustive process" of contacting every A&E department in the country to establish whether they will have enough staff to stay open.
"We will do everything we can to keep every A&E department open but junior doctors are the backbone and that will depend on finding consultants who can step in. That is a huge logistical exercise which is now under way," the Independent reported.
A BMA spokesman denied that doctors were the ones endangering patient safety and claimed the biggest danger to the NHS was the new contracts. "No doctor takes industrial action lightly and we regret the disruption it will cause," he said. "However, junior doctors now feel that they have no option," the paper reported.
The Government's Chief Medical Officer, Professor Dame Sally Davies, expressed sympathy for the doctors but urged the BMA to suspend strikes.