NHS Patients 'More Likely To Die At Weekends' Due To Lack Of Staff
People admitted to an NHS hospital for emergency treatment at the weekend are nearly 10 per cent more likely to die than during the week, according to research.
The comprehensive report by Dr Foster Intelligence found that one in eight NHS trusts had higher than expected death rates on Saturday and Sunday. It also found that in a "handful" of trusts the mortality rates had risen 20 per cent or more at weekends and nights.
The results, posted on the healthcare information provider's comparative website, showed that hospitals rely more on junior doctors and nurses to treat critically ill patients on weekends and nights. There are also a significantly fewer number of senior consultants outside of regular office hours.
A survey showed that up to 30 per cent of hospitals have no consultants on site at night, whereas 20 hospitals had more than five or more consultants.
The overall death rate for emergency admissions rose from 7.4 per cent during the week to 8 per cent at weekends, a 9.5 per cent increase.
The newly published report found that around 12 per cent of trusts had higher than expected mortality rates at the weekend.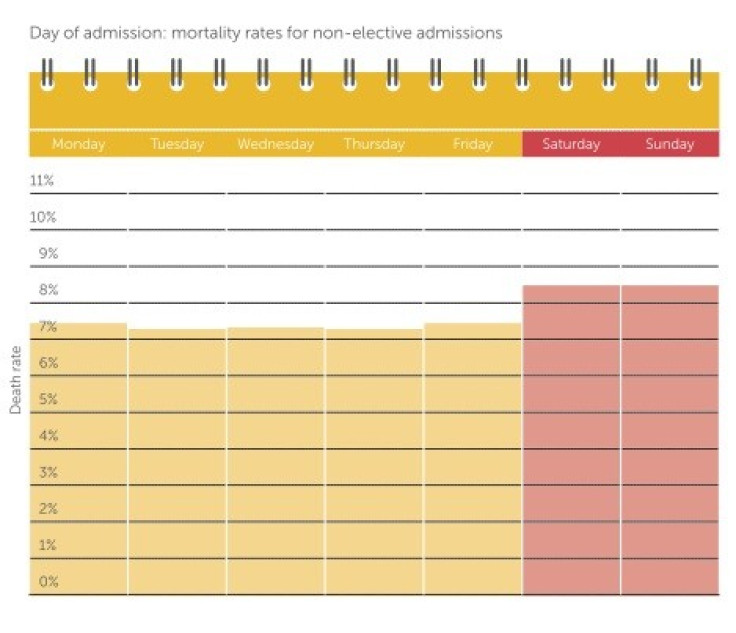 The list of hospitals where out-of-hours mortality rates have been identified as a "particular problem" include NHS Trust hospitals in Northampton, Wolverhampton and Doncaster.
The top three hospitals with the lowest level of senior doctors on staff at the weekend are Darwent Valley Hospital, Diana, Princess of Wales Hospital in Grimsby and the George Eliot Hospital in Nuneaton.
Guide to NHS Hospitals With Highest And Lowest Mortality Rates
"By working together and sharing best practice, hospitals can improve services for patients," NHS medical director Professor Sir Bruce Keogh said in a statement.
"I will be asking the NHS medical directors to look closely at weekend services to ensure patients admitted at weekends receive the same standards of care as those during the week.
"This problem is not unique to the NHS, it confronts all health systems in the world, but I am confident the NHS is well placed to address these issues."
The report also gives a list of 21 trusts with better than expected mortality rates, with Chelsea and Westminster NHS Foundation Trust scoring best on all four measures.
Two trusts, Hull and East Yorkshire and University Hospital of North Staffordshire, have been named as having higher than expected mortality rates on three out of the four measures.
© Copyright IBTimes 2023. All rights reserved.