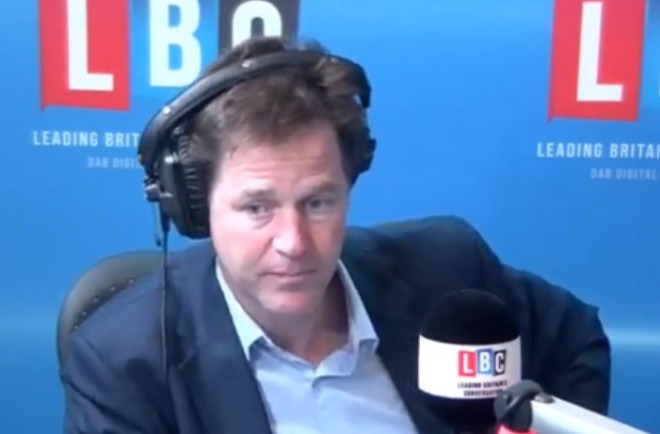 Nick Clegg has defied questions over his future as leader of the Liberal Democrats as he took to the airwaves to answer questions about the party's dismal election results.
He listened to one caller compare the local and Euro results to Godzilla stomping all over Tokyo - with the Lib Dems as the stricken city.
Meanwhile, another caller demanded Ukip leader Nigel Farage be given a knighthood "for services to politics".
Clegg denied he had wept in the aftermath of polls which saw the Lib Dems lose 70% of councillors and 90% of MEPs. Ukip topped the EU election.
Clegg said on LBC radio: "Of course my party to put it mildly is going through a phase or soul searching and asking lots of difficult questions about what we should do between now and the general election."
Clegg has faced calls to resign as party leader from former colleague Lord Oakeshott, amid rumours of a plot to oust him.
Farage has said he cannot see Clegg remaining leader of the Lib Dems next year. The deputy prime minister responded by saying the former banker did not live in the real world.
"I sometimes wish we lived in Nigel Farage's world, where every problem under the sun can be solved by one leap: from traffic jams to bad weather – everything can be solved by pulling out of the European Union," said Clegg.
"I remain as firmly of the view now that seductive though the message of Ukip and other parties like that across EU are - saying everyone in government is a charlatan, blaming foreigners for everything: I really genuinely think that what they propose would only make those feelings of insecurity and anxiety and fearfulness and anger worse.
"I don't think we should lurch to solutions which would make problems worse, rather than better."
Clegg denied there was a rift between him and business secretary Vince Cable, following reports Cable and Oakeshott consulted each other about polls which stated Clegg was an electoral liability.
"Vince Cable and I are going to carry working together successfully to deliver many of the policies and ideas we have been campaigning on for years and years," said Clegg.
Prime Minister David Cameron and Labour leader Ed Miliband must take on the issues which contributed to the rise of Ukip in Britain, insisted Clegg.
"But I don't believe you can duck an argument of this enormity. I would appeal to David Cameron and Ed Miliband: You cannot put your head in the sand. You cannot stick your head in the sands when the whole of Europe is lurching to the left and right - turning in on itself," he warned.