EU Elections: Nigel Farage Hails Historic Victory for UKIP
Ukip: 'The political earthquake is underway tonight'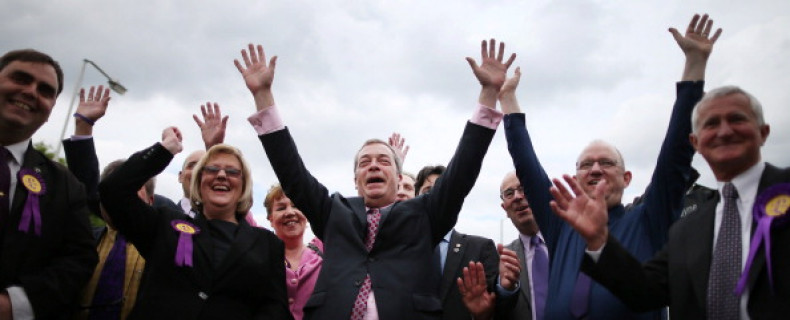 Ukip are on target to top the European polls in the UK.
The leader of the party Nigel Farage has said that he fully anticpates that the anti-immigration party will win the European elections.
He said it "will be an earthquake because never before in the history of British politics has a party seen to be an insurgent party ever topped the polls in a national election."
Ukip is among a host of anti-immigration / Eurosceptic parties across the continent gaining strong support in the elections.
As Ukip continue to record wins across the country, Farage said the impact of tonight's results would be felt in the long-term. "We may see one party forced out of his position as a result of tonight and I suspect the PM will face pressure from his own party for a much tougher negotiating stance. Who's to say in a years time what Ukip can achieve in a general election in what is likely to be a hung parliament. I am delighted with the way this election has gone and the peoples party are marching their way into Europe. I think anything is possible after tonight's result."
The party's communications director Patrick O'Flynn, who was elected an MEP for the East of England said the party's achievement was "quite unprecedented".
Speaking after his win he said: "We want our country back and we are going to have a really good crack at getting back. The British people have spoken, they want control of their nation."
"The political earthquake is underway tonight," he added. "Any party that doesn't hear the message loud and clear is in for another shock less than a year from now when we fight again at the general election."
The rise of Ukip saw Labour conceding defeat, with early results indicating that Labour are being pushed into second place.
In a personal cause for embarrassment for Labour leader Ed Miliband, Ukip topped the poll in Doncaster, where he is an MP. Ukip had 35 per cent of the vote, up 19 points on 2009. Labour were pushed into second on 34 per cent.
Defending their position, a senior Labour source maintained that while it looked as if Ukip was ahead, the vote for Ed Miliband's party was "up significantly" on the 15.7% it achieved in 2009.
Nick Clegg's Liberal Democrats party has suffered the greatest losses with calls for him to step down as leader after he acknowledged that they face the possibility of losing all of their 11 MEPs.
Lib Dem party president Tim Farron said: "It's as bad as I feared. Whatever we end up with we fought a campaign I am extremely proud of . Nick Clegg has fought against the anti European campaign for Ukip. We stood up to it and we're being punished for it."
Tory Cabinet minister Philip Hammond has claimed that the vote for Ukip is skewed by "lender voters" who would abandon the party and return to the Conservative fold for the 2015 general election.
Hammond said: "UKIP is a protest party. Most of the people who are voting for UKIP - not all of them, but most of them - are disillusioned voters of other parties who have moved to Ukip to send us a message, and we've got a year to show them that we've got that message.
"We've got to reiterate our continuing story about how our economic plan is delivering for Britain, recognising that not everybody is feeling the benefit of that yet.We've got to make sure they do and we've also got to express the specific concerns that people are articulating about immigration and about Europe."
If the result is confirmed as a Ukip win, it would be the first time since 1984 that the Westminster Opposition party has failed to top the poll in the European elections.
David Cameron now faces renewed pressure to consider local electoral deals with Ukip at next year's general election.
In the rest of Europe, France's far-right National Front was on course for a massive victory in European elections tonight as the country swung behind its anti-immigration, anti-EU agenda.
Early estimates suggested the number of Eurosceptic MEPs in Brussels could double.
A round-up of some of the winners and losers of the 2014 local elections so far:
- The Conservatives topple the Liberal Democrats in Kingston-Upon-Thames. The party had held the council for 12 years.
- The Liberal Democrats lose control of Portsmouth – UKIP gains six seats, taking four from the Liberal Democrats, one from Labour and one independent seat.
- Portsmouth independent councillor Mike Hancock loses his seat after 40 years.
- In Rotherham, UKIP takes eight seats from Labour with a 47% share of the vote.
- UKIP benefits in Essex taking seven seats from the Tories in Basildon, brentwood, and reporting gains in Castle Point and Southend.
- Labour loses Thurrock, a key seat for the 2015 General Election. No party has overall control.
- A victory for Labour as it takes Hammersmith and Fulham, which has been in Conservative hands since 2006.
- Labour takes Cambridge, winning 10 seats.
- The Liberal Democrats keep Eastleigh.
- In London Labour gains Croydon from the Conservatives and Redbridge and Merton.
- The Conservatives lose ground in London, the south and southeast, in areas like Havering, Maidstone, Basingstoke and Purbeck which were all lost to No Overall Control.
- In the Midlands and East Anglia, the Conservatives lost Peterborough and Tamworth to No Overall Control, but gained St Albans.
- Labour gained Amber Valley, Crawley and Bradford but lost North East Lincolnshire, Great Yarmouth and West Lancashire.
- The number of MEPs elected per party in Wales is: Labour, one, UKIP one, Conservatives one, Plaid Cymru one. Labour only narrowly topped the European election poll in Wales, just 0.2% ahead of UKIP.
- BNP leader Nick Griffin is kicked out of Europe as he loses his seat in the European Parliament.
-Labour wins 8 seats in the North West; UKIP three, Conservatives two and a wipeout for the BNP.
-In the West Midlands, Ukip win three MEPS, Conservatives two, Labour two.
-Political pundits predict the first Ukip MEP in Scotland.
- As expected the SNP tops the poll in Scotland; Labour come second in the polling, Conservatives third and Ukip fourth with David Coburn becoming an MEP, while Lib Dems pull up the rear after the Green party.
- In the South-East, Nigel Farage lead the way as four Ukip candidates scored wins. Conservatives have three MEPS, Labour one, Green Party one, and the Lib Dems manage to hold on to one seat.
Celebrating his personal triumph and the success of his party the Ukip leader said: "The British people have spoken and I am glad to have lead them. The penny has really dropped. We can't run our own country and we can't control our borders. Our people's army will go from here to Europe and in next years general elections and I promise you, you haven't heard the last from us."