Deputy Prime Minister Nick Clegg has said he will block the controversial draft Communications Bill, saying that it needs a fundamental rethink and that he will push to ensure a balance between security and liberty.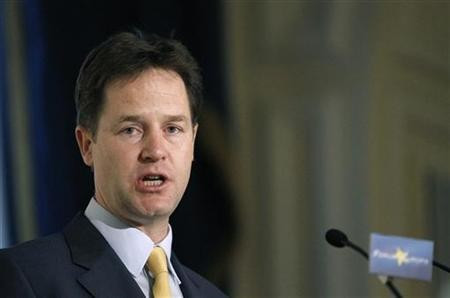 Nick Clegg has thrown his weight behind critics of the so-called "Snoopers' Bill" who claim it would give police and intelligence agencies access to "header" information, such as email addresses and mobile phone numbers - although a warrant would be required to read the content of emails and text messages.
A joint committee set up to examine the draft warned of security "overkill" and prompted the deputy prime minister to call on ministers to ditch their plans and "go back to the drawing board".
Clegg said the committee had raised a number of criticisms, "not least on scope, proportionality, cost, checks and balances, and the need for much wider consultation".
The Liberal Democrat leader added: "It is for those reasons that I believe the coalition government needs to have a fundamental rethink about this legislation. We cannot proceed with this bill and we have to go back to the drawing board."
Despite his and the committee's opposition, Clegg admitted: "There is a problem that must be addressed to give law enforcement agencies the powers they need to fight crime. But that must be done in a proportionate way that gets the balance between security and liberty right."
Pressure from the joint committee and from Clegg forced Conservative security minister James Brokenshire to admit: "We know that there is work to be done and I absolutely accept that. We've been working through this and noting the points that have been said and work is already advanced on making some of the changes."
As it stands, the Bill would require telecoms firms to store data for up to 12 months, including details of messages sent on social media, email, voice calls over the internet, and gaming, in addition to emails and phone calls.
National security
Police officers would not need a warrant or permission from a judge to see details of the time and place of messages, provided they were investigating a related crime or it was in the interests of national security.
Home secretary Theresa May backs the bill, which would see every email, text message, website visited and phone call record stored, along with the time, duration, originator, recipient, and the location of the devices used.
May said the new law was needed to help catch terrorists, paedophiles and cyber-criminals. Earlier in 2012, MI5 chief Jonathan Evans defended the draft law. "[It would be] extraordinary and self-defeating if terrorists and criminals were able to adopt new technologies in order to facilitate their activities while the law enforcement agencies were not permitted to keep pace with those same technologies," he said.
This week, a separate House of Commons intelligence and security committee backed May and Evans, warning that MI5, MI6 and GCHQ would be unable to protect the country properly without new powers to monitor online activity.
The second committee added that, having heard private evidence from government spies, it had found a "decline of available communications data will begin shortly to have a serious impact on the intelligence and security agencies".
Wikipedia founder Jimmy Wales backed Clegg's move to scrap the bill. He called it unworkable, expensive and "stupid", adding to remarks he made in September, where he branded the draft as "technologically incompetent".
MPs and peers added that the draft paid "insufficient attention to the duty to respect the right to privacy".
It went "much further than it need or should for the purposes of providing necessary and justifiable official access to communications data", they warned.