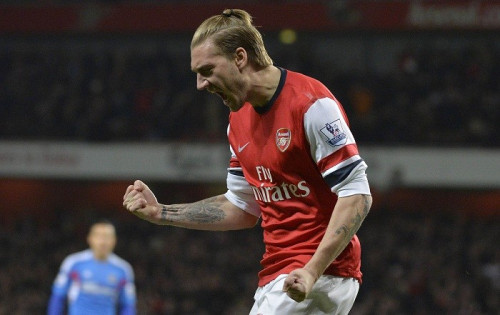 Nicklas Bendtner's agent has admitted the Arsenal striker is open to discussing a new deal with his current club as the Denmark international continues to recover from injury.
Bendtner spent two loan spells away from the Gunners before returning to the club in the summer of 2013 and since then he has insisted he wants to move to a side that can offer more regular game time.
Arsene Wenger persevered with the 26 year old and although Bendtner has been sidelined the manager has spoken of his importance to the squad as support for Olivier Giroud up front.
And now as Bendtner enters the final six months of his deal with the north London club his agent Tom Brooks claims that the ball is in Arsenal's court over a new contract.
"You've got to ask Arsene Wenger about that," he told Tipsbladet. "We have not been in touch with Arsenal about it. We might discuss it with Arsenal later in case it is necessary.
"Nicklas is focused on Arsenal and regaining his fitness."
Bendtner's history with Arsenal has been well documented with the hitman struggling to impress Wenger from almost the moment he moved up into the senior side in 2005. He spent time at Birmingham City before returning to the Gunners for four years, and then while searching for a permanent deal elsewhere secured a loan spell with Sunderland.
It was a successful spell for the Dane but a subsequent move to Juventus saw him fail to score with injuries playing a big part in his disappointing season in Italy.
In the current campaign it appeared to be the same old story for Bendtner as he continued to struggle in front of goal but the Copenhagen-born man looked to be improving over the Christmas period before once again he suffered an injury setback.
Wenger confirmed this week though that Bendtner is back in contention for selection after recovering from an ankle injury.