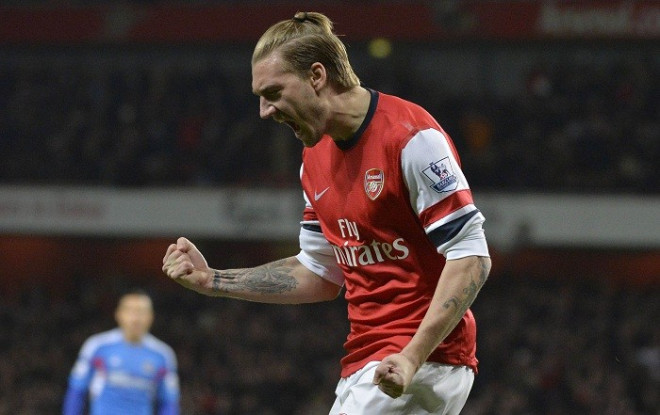 Nicklas Bendtner has expressed his desire to leave Arsenal in the summer and revealed that he is keen on making a switch to the Bundesliga in the summer.
The Denmark international's contract at the Emirates comes to an end at the end of the season and the Gunners have not offered him an extension. The 26-year-old returned to the north London club last summer after spending the last two seasons on loan at Sunderland and Juventus.
Since his return to Arsenal, Bendtner failed to feature regularly for Arsene Wenger's side this season. The Dane has made only one start in the Premier League and has now admitted that he is looking for a move away from his current employers in the upcoming transfer window.
"I like Italy a lot, but the German league also looks exciting. Bayern are strongly in command, but they can be challenged," Sky Sports quoted Bendtner as saying.
"I do not have a particular preference, because all I want is a place where I get regular match practice and can be happy."
Earlier in March, the Gunners' striker admitted that he would decide his next destination based on the assurance of getting regular playing time.
"It's not part of the plan to be at Arsenal after the summer. I'll try something else," Bendtner told the Danish newspaper BT.
"I've put a lot of thought into what I want, but the most important thing is to go to a place where I can get more playing time. I need to play more to also keep my place in the national team."
Meanwhile, Wenger has expressed his delight after Arsenal ended their last home game of the season with a 1-0 victory against West Bromwich Albion. Olivier Giroud's solitary goal saw the north London side seal three points.
"The pressure was a bit off and you could see we were a bit subdued but overall we did the job in a serious way," Wenger told Arsenal's official website.
"We wanted to finish with a win at home, we did it, we kept a clean sheet, we scored only one goal and there was room for more. But West Brom played well and we did the job in a serious manner."