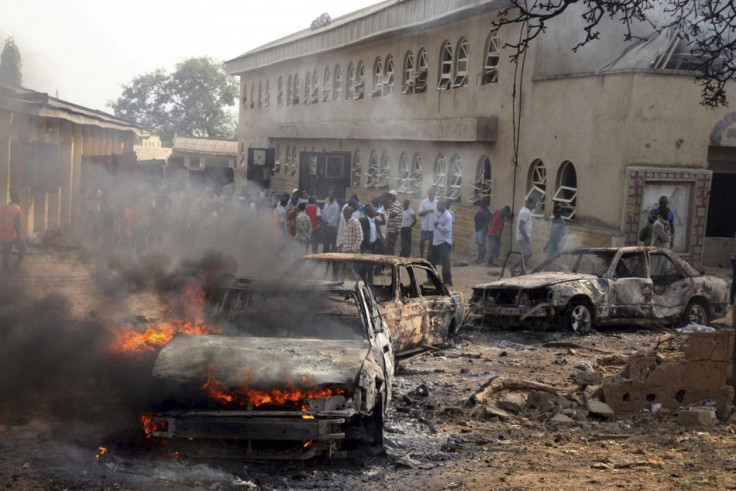 At least five people have been killed in a rampage attack by gunmen who burst inside a church in northern Nigeria during a Thursday night service.
The rampage occurred as Nigeria remains under threat by the Islamist sect known as Boko Haram, whose name means "Western education is sacrilege" in the local Hausa language.
The group had issued a three-day ultimatum, expired at the time of the attack, urging all Christians living in the north of the country to leave the area.
Nigeria police have dismissed any immediate threats by the sect. But Thursday's assault has sparked serious concerns on their readiness to respond to the attack.
"The attackers started shooting sporadically. They shot through the window of the church, and many people were killed including my wife," Pastor Johnson Jauro told Reuters by telephone from his Deeper Life church in Nasarawa, Gombe state in northern Nigeria.
"Many of my members who attended the church service were also injured," he said.
No one immediately claimed responsibility for the attack, but suspicion immediately fell on Boko Haram, Press Association reports.
The sect issued the ultimatum after Nigerian President Goodluck Jonathan declared a state of emergency in regions of the country where the Salafist group has been active.
On Christmas Day, 49 people were killed in four attacks, most of them in a bombing at St Theresa's Catholic Church in the village of Madalla on the outskirts of the capital Abuja.
Boko Haram has accused the government of targeting Muslims.
"We find it pertinent to state that soldiers will only kill innocent Muslims in the local government areas where the state of emergency was declared," said Abdul Qaqa, spokesman for the group.
"We would confront them squarely to protect our brothers. We also wish to call on our fellow Muslims to come back to the north because we have evidence that they could be attacked. We are also giving a three-day ultimatum to the southerners living in the northern part of Nigeria to move away."
Ajayi dismissed Qaqa's threats and implored people to go about their business without fear or intimidation.
A state of emergency was declared in parts of the states of Borno, Niger, Pleageau and Yobe.
Nigeria's 160 million population is divided between a mainly Muslim north and Christian south.
President Jonathan said that the attacks threatened collective security and had "shaken the foundations of our corporate existence as a nation".