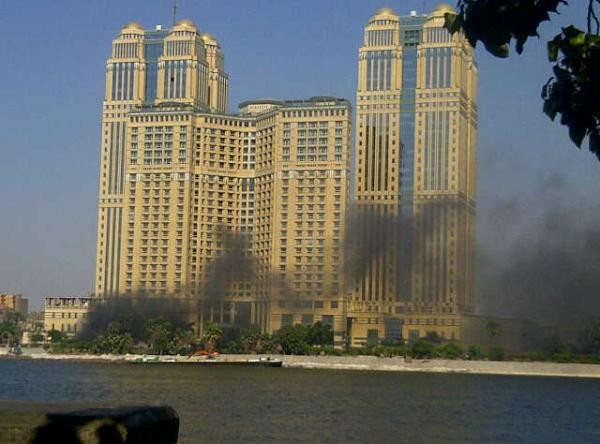 Two people have died in clashes between residents and security guards at a luxury apartment, hotel and office block in Cairo.
An angry mob armed with Molotov cocktails confronted security services around Nile City Towers after a guard shot dead a local resident, Amr al-Bunni, who had been threatening people with a knife. A young girl died in the chaos that followed when she choked on teargas.
"The residents of the shacks behind Nile City came to attack the hotel and tried to burn it down," Orascom Construction Industries, a building company that has an office in the towers, said.
The guard was said to be on a temporary contract.
The management of the Nile City Towers sealed the building after motorcycles and cars were set on fire and security reinforcements were bombarded with Molotovs.
Teargas and birdshot were used by Central Security Forces to disperse the crowd.
The luxury complex, which looms over a slum area, was attacked in June, when staff allegedly refused requests for water to help put out a fire that had broken out in one of the neighbouring shacks. A five-year old boy died in the blaze.
Slum-dwellers have been involved in a long-running dispute with construction firms seeking to squeeze them out and turn a fat profit on what would be prime real estate in the city.
Police have been ordered to clear the slums and evict the residents.
Egypt: Sectarian Violence Leaves 16 Injured and Forces 120 Families to Flee