Nintendo has announced the 2DS handheld game console, a budget device which ditches the 3DS's folding action in favour of a flat plastic slab housing two screens and the familiar Nintendo controls.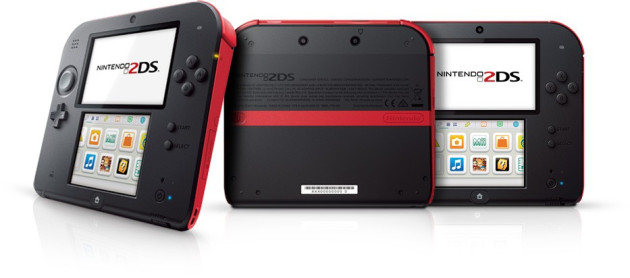 The console will be available in the US from 12 October, priced at $129.99 (£84), while a European launch date will be announced soon; we expect UK pricing to be around £100, a third cheaper than the 3DS.
A surprise to many, with no previous leaks or suggestions that Nintendo had such a product in development, the 2DS can play all existing 3DS games in two dimensions, as well as a back catalogue of more than 2,000 regular Nintendo DS games.
The console does not fold, and instead is wedge-shaped, with a black front and sides coloured in red or blue. Described as "an entry-level handheld gaming system" by Nintendo of America's president Reggie Fils-Aime in a conversation with Kotaku, the 2DS gives gamers a more affordable alternative to the 3DS and PlayStation Vita heading towards Christmas.
Although firmly at the budget end of the handheld gaming market, the Nintendo 2DS still gets Wi-Fi for multiplayer games and access to the Nintendo eShop; The consoles comes with a stylus for interacting with games via the lower, smaller screen - just like on the regular DS - and there's 4GB of internal memory, as well as a camera for shooting stills.
Preparing for the Christmas shopping rush - and the incoming assault from the PlayStation 4 and Xbox One - Nintendo also announced a price drop for the Wii U, down $50 to $299.99 in the US; no official word yet on the UK price of £279.99 going down, but we'd expect it to drop in the coming weeks.