We've all done at some point: you pass a charity collector in the street and shoot them an apologetic "sorry, no change," while hoping they're not wondering how you paid for the large double latte in your hand. A new solution from Barclaycard aims to do away with this excuse forever, in the form of a contactless charity box that lets you donate with just a tap of your bank card.
The donation boxes are fitted with NFC receivers that allow them to accept payments from debit or credit cards, similar to the contactless point-of-sale terminals found in shops, restaurants and myriad other businesses across the UK today. The boxes can be pre-set to accept a specific donation amount, but this can be changed for one-time transactions via a smartphone app for individuals who want to donate more or less. They also accept NFC payments made using smartphones and smartwatches.
Barclaycard trialled the boxes with 11 charities including Oxfam, Barnardos and the NSPCC in September 2016. The payment amount was pre-set at £2 but donors were told they could give whatever they wished. The NSPCC said that the average donation given via the contactless boxes was £3.07, around three times higher than the usual £1 given using cash.
According to Barclaycard, contactless payments grew 166 per cent in 2016, with half of UK residents now making a tap-to-pay transaction at least once a month. It's predicted that cash will account for just one in four payments by 2025, from 45% two years ago.
While contactless technology has eased the strain on our wallets and cut the amount of time we spend queuing to pay for things, not everyone has benefitted from its rise. With cash payments falling rapidly, we're walking around less change in our pockets, which is bad news for those who reply on us giving up our spare coins for charitable causes.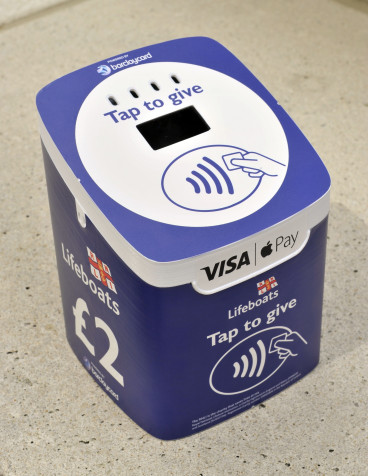 A survey by Barclaycard found that one in seven people admitted to walking away from charity collectors at least once last year because they were unable to give using a debit or credit card.
While the trial was only set to last for three months, a number of the charities are still using the contactless boxes because of their success. Megan Johnston, senior fundraiser at the NSPCC, said: "The feedback we received from the public was overwhelmingly positive. Previously, many people have said they would like to donate even though they no longer carry cash, so it was great to offer a cashless giving alternative."
Barclaycard now hopes to introduce the contactless boxes more widely across the UK. The company, which describes itself as a "pioneer in payment solutions", has applied its contactless tech to more indulgent causes in recent months, namely a tap-to-pay beer pump designed to speed up service in bars.