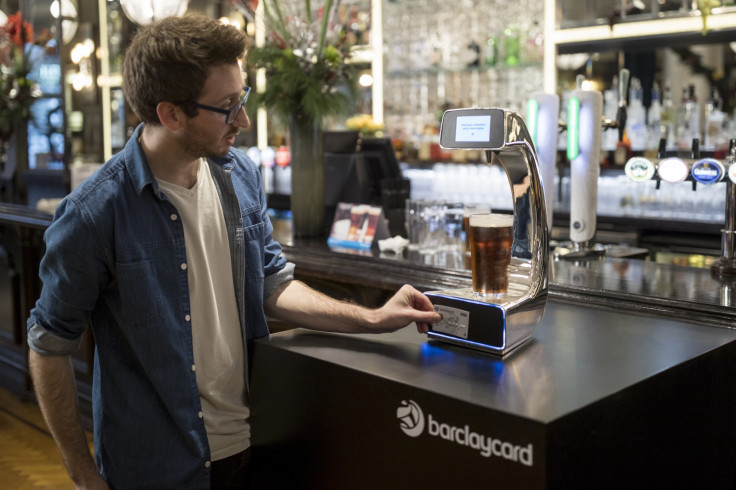 A Christmas tipple is hard to beat, but battling your way to the bar among the crowds of festive drinkers can leave us less far from merry. Barclaycard has resolved to fix this problem with a genius solution which, frankly, should have been brewed up years ago: a tap-to-pay beer pump.
Pay @ Pump has been designed to help pubs and bars speed up service, in response to research from Barclaycard that found a quarter of Brits say queuing for drinks is the worst part of a night out. Customers select their ale of choice from the built-in touch screen and, with a touch from their contactless payment card, can have it dispensed into the waiting receptacle. It accepts mobile payments too, meaning you can also pay for your drink with a tap of your smartphone or smartwatch.
All this is done in just 60 seconds – a far cry from the 12 minutes pub-goers spend waiting at the bar per order during the Christmas season. As a result, Pay @ Pump can both speed up ordering time as well as provide much-needed relief for overworked bar staff.
Bar humbug
According to research by Barclaycard, roughly a quarter of pub-goers have considered abandoning a drinks order because of long bar queues, while one in five have ditched a bar for other one when faced with the same dilemma.
For now Pay @ Pump is limited to serving ale and is only in use at Henry's Café and Bar in central London. However, Barclaycard said it could be rolled out more widely to bars, festivals and concert venues if successful.
Tami Hargreaves, commercial director of digital payments at Barclaycard, said: "I'm sure everyone has been stuck behind the person who orders the most complicated cocktail on the menu or a round of ten drinks for their group of friends.
"When people told us that waiting time was one of their biggest annoyances, we wanted to help solve a common problem with a simple solution. Pay @ Pump could easily be the answer; by putting the festive cheer back into buying beer – a win-win for both bars and bar-goers!"