Nokia has announced the new 'Asha' range of mobile phones, which feature a candy bar-style design - incorporating a full QWERTY keyboard and touchscreen - and Angry Birds is pre-installed on every model.
Derived from the Hindi word for 'hope', Nokia believes that the new Asha range - consisting of 303, 300, 200 and 201 models - will connect the next billion mobile phone users by offering "the best overall experience and value proposition".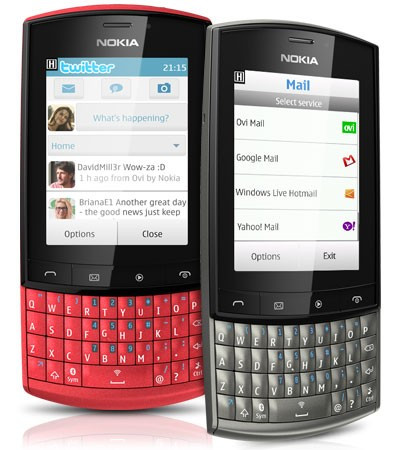 The range-topping Asha 303 features a 2.6 inch capacitive touch screen and physical QWERTY keyboard, and while the 1GHz single-core processor and 3.2mp camera won't rival any smartphones, social integration and price are the 301's highlights.
Nokia claims that the Asha 303 will cost just €115 when it goes on sale in Europe in the fourth quarter of 2011, offering basic smartphone features at the budget end of the mobile phone market. The Asha 303 supports Facebook Chat and Whatsapp messaging services and Angry Birds Lite comes pre-installed.
The Nokia Asha 300 is similar to the 303, but drops the full QWERTY keyboard in place of a numerical keypad, while retaining the 2.5 inch touchscreen and candy bar form factor.
The Asha 300 has a 1GHz processor, 5mp camera and storage can be expanded up to 32GB with an SD card. Although the 300 lacks on features, it comes with Angry Birds and Nokia is suggesting a recommended retail price of €85 when it goes on sale in quarter four of this year.
At the lower end of the already-budget Asha range is the 200 201 models, both of which are aimed at "young, urban consumer" who want to stay in touch with their social networks and are price conscious.
The Asha 200 is a dual SIM phone, meaning that two SIM cards can be carried in the phone, and with 'Easy Swap' changing between the two networks can be done without turning the phone off, making ideal for those who often travel abroad.
Featuring integrated social networking, email and IM, the Asha 200 can also hold up to 32GB of music with the addition of an SD card, and provides 52 hours of music playback.
The 201 model goes one step further and offers push email and Whatsapp messaging app, and both the 200 and 201 are priced at around €60 when they go on sale later this year.