Last week Nokia's share price dropped 14 percent after the company predicted it would be announcing worse-than-expected results for Q1 2012. Today it has revealed the full extent of those results, posting an operating loss for the three months to the end of March, of €1.34bn (£1.1bn).
Nokia Results Q1 2012:
Smartphone sales down over 50 percent
Revenue down 29 percent
Net loss of €929 million
Share price down 60 percent since annoucning Microsoft deal
While Nokia has warned of bigger-than-expected lossed, the reported €1.34bn loss missed analysts' expectations (a €731m loss) by a wide margin, confirming the company's own bad omens a week ago. The operating loss of €1.34bn this year compared to an operating profit of €439m during the same three month period in 2011.
Revenue dropped a huge 29 percent to just €7.35bn with net loss reported as €929m for the quarter, compared to a €344m net profit in Q1 2011. This again missed analysts' expectations of a €554m net loss by a big margin.
"We are navigating through a significant company transition in an industry environment that continues to evolve and shift quickly," Nokia's Chief Executive Stephen Elop said. "Over the last year we have made progress on our new strategy, but we have faced greater than expected competitive challenges."
The transition Elop is speaking about is the move from its own Symbian operating system to the Windows Phone platform of Microsoft. Nokia launched its first Windows Phone devices in October last year and last week the company said it was pleased with the way sales of this Lumia range of phones had gone, claiming it had sold 2 million units in the last quarter.
In the report issued today, Nokia said in total it shipped 82.7m devices in the first three months of 2012, compared to 108.5m during the same period last year. Taken in isolation, its smartphone shipments (both Windows Phone and Symbian) of 11.9m are down over 50 percent compared to this time last year (24.2m).
Looking at the part of the company related to mobile phones, Devices & Services, Nokia reported the first-quarter operating margin at this, its largest unit, was a negative 5.2 percent. And things are not expected to get better any time soon with Nokia saying it said it expects the second quarter to be similar to, or below, the first quarter level.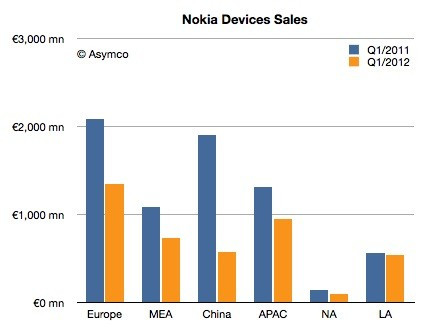 In a bid to turn things around Nokia said it is planning to accelerate and substantially deepen cost savings for its Devices & Services unit and will give further details soon. The Finnish company has already cut 14,000 jobs in the past 12 months and is aiming to cut €1bn from its operating costs by next year.
Nokia is fighting a battle on two fronts. It is trying to complete with the likes of Apple, Samsung and HTC in the high-end sector of the mobile phone market with devices like the Lumia 800 and Lumia 900, while it is continuing to produce feature phones for emerging markets, such as its Asha ragne of devices.
However, with cheap devices from the likes of ZTE, Huawei and other Asian manufacturers, based on the Android platform, flooding the market, it is struggling to compete in a market it once dominated. Nokia was the world's biggest mobile phone vendor in 2011, a title it has held for a long time, but that title will soon (if it hasn't already) pass to Samsung, as Nokia's decline intensifies.
Since it announced its deal with Microsoft in early 2011, Nokia shares have lost 60 percent of their value and it is no longer Finlands most valuable company.