Nokia is looking to broaden its appeal by launching its "most innovative product portfolio ever" including a budget Windows Phone handsets and an ultra-cheap feature phone.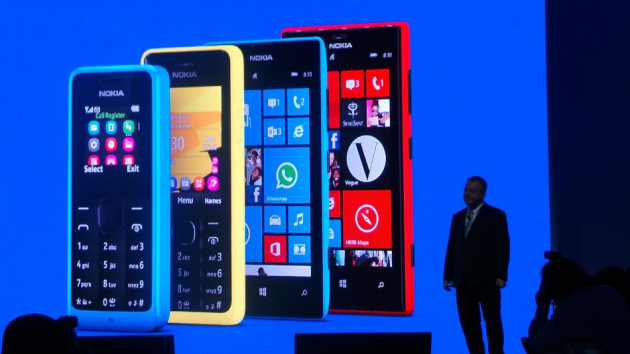 Nokia has unveiled two new Lumia Windows Phone smartphones at Mobile World Congress in Barcelona, as well as two new features phones which it claims bring high-end innovation to low-end phones.
Costing just €139, the Lumia 520 is a key product for Nokia and Microsoft, as it is the cheapest Windows Phone handset on the market. Nokia is hoping this phone will help it gain ground in the low end of the market, where Android currently dominates.
The phone features a 4in display, 1GHz dual-core processor, 8GB of storage and supports microSD card to expand storage up to 64GB. Nokia's CEO Stephen Elop played up the fact that a lot of the company's innovations in its high-end Lumia 920, are now trickling down to its low- and mid-range smartphones.
These include the super-sensitive touchscreen which can be used with gloves and the lenses found on the superb camera on the 920, such as Panorama, Cinemagraph and Smart Shot.
Along with the Lumia 520, Nokia announced a new mid-range smartphone, the Lumia 720, which features a 4.3in screen with ClearBlack technology for improved viewing outdoors. The phone will cost €249 and is scheduled to roll out in certain markets this quarter.
Broadening
"The momentum behind Nokia is gathering pace. The launches today reflect our commitment to broadening our devices and services portfolio to meet the demands of people and businesses around the globe," said Elop.
"By offering better experiences at a more affordable price we are reinventing the battle for affordable mobile devices, and Nokia has the building blocks to win."
Nokia also spoke about China, with Elop confirming both new Lumia smartphones will go on sale through China Mobile's network. This is obviously a huge market, and one where Android is currently dominating.
Elop also announced there is now 130,000 apps available for Windows Phone, which is an area where the Microsoft platform is still quite a distance behind Apple and Google.
Feature phones
Also unveiled at Mobile World Congress were two low-end phones, one of which, the Nokia 105, will be available for just €15 and give you battery life of a month. Nokia claims there is 2.7 billion people without a phone in the world today, and it hopes the combination of low cost and long battery life will help connect them.
The final phone unveiled was the Nokia 305, a feature phone which promises better internet through the express browser, mail for Exchange, HD voice and an improved camera.
Taking innovations from more expensive smartphones and brining them to much more affordable phones is the clear message from Nokia's launch in Barcelona, and that is not limited to the Lumia line-up.
For example, the camera on the Nokia 301 allows you take panorama shots as well as featuring a burst shooting mode and voice-guided self-portrait mode.
Elop summed up his presentation by calling the company's phone line-up "the most innovative portfolio of products ever" and it is clear that the company is looking to broaden its customer base.
With a multitude of Android handsets now costing less than €100, it is going to be difficult for Nokia and more broadly Microsoft to succeed, but the Lumia 520 is a step in the right direction.