Nokia's Lumia 520 Windows smartphone has emerged as the world's best-selling Windows Phone 8 (WP8) phone.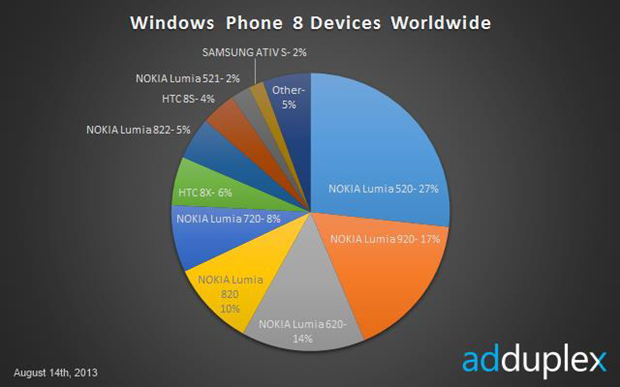 The latest data from Adduplex, a Windows-based cross-promotion network for applications, states that Nokia's cheapest Lumia model, the 520, accounts for 18% of all Windows Phone handsets sold, and 27% of all WP8 handsets.
Another interesting snippet of information which has come out of the survey shows that overall 57% of WP8 smartphones use just 512 MB RAM, which indicates that lower-end devices are the best-selling devices running Microsoft's operating system.
Almost 65% of WP8 handsets are made by Nokia, with that percentage rising to a huge 86.9% when taking into account all Windows Phone smartphones (including models running Windows Phone 7 and Windows Phone 7.5).
While all of this looks like good news for Nokia, it must be remembered that Windows Phone only accounts for 3.3% of all smartphone sales, trailing Android (80%) and Apple iOS (14%) by some distance, according to the latest figures from Gartner.
Amber
In related news, Nokia has started rolling out the long awaited Amber update for its Nokia Lumia WP8 smartphones. The update brings Nokia Glance Screen, FM Radio player, an improved Internet Explorer and other features to the phones.
New camera features from the Lumia 1020 and Lumia 925 handsets will come with the update.
Nokia has promised the Lumia 520, Lumia 620 and Lumia 720 will get the updates by the end of September. The updates depend on which network you use, where you live and which model Lumia device you own.