Nokia's third offering in the Lumia series of smartphones is also the company's first to feature high-speed LTE connectivity. The handset was announced earlier this year, at the Consumer Electronics Show (CES), where it won Best Smartphone.
The phone features a 4.3-inch AMOLED ClearBlack glass touch-screen that runs at a resolution of 480 x 800 pixels. The display comes with Corning Gorilla Glass protection. The smartphone has dimensions of 5.03 x 2.7 x 0.45 inches and weighs 5.6 oz. The device runs on the Windows Phone 7.6 Mango operating system and is powered by a single-core 1.4GHz Qualcomm Snapdragon S2 processor.
Other key features include an eight megapixel, Touch Focus, dual LED flash camera (3264 x 2448 pixels) with Carl Zeiss optics and a secondary single megapixel camera with a resolution of 1280 x 720 pixels. The phone has 16GB of internal storage, with optional SkyDrive Cloud storage and 512MB of RAM. The Lumia 900 carries a BP-6EW battery with a capacity of 1830mAh.
The most surprising element is its price - £63 ($99.99).
The teardown assessment by TechRepublic, however, has a few insights into the low price.
Apparently, the primary cost-cut is in its mediocre hardware. The phone carries a single-core 1.4GHz Qualcomm Snapdragon S2 processor. In contrast, most other smartphones are packed with either dual or even quad-core processors. Furthermore, the phone carries lower resolution display and less RAM than most others.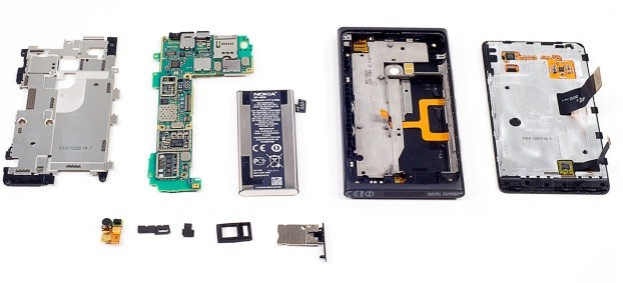 The smartphone is made from a single-piece polycarbonate case, which results in a solid and sturdy feel. It has similar dimensions to Samsung's Galaxy Nexus but is a little thicker and heavier than both the Nexus and Apple's iPhone 4S. Finally, the construction quality is good; however it is not firmly built that is impossible to take it apart, should you need to access the inside.
Verdict: The Lumia 900 does not have a dual-core processor. It has a lower resolution display and less onboard memory than either the Galaxy Nexus or the iPhone 4S. However, the Lumia 900 is without doubt the best Windows Phone 7 smartphone availanle. Furthermore, at a price of about £60, the smartphone is also (and easily) the most affordable one in the market right now.
Overall, this may not be the best device out there and it certainly does not warrant buying if you can afford a Nexus or an iPhone or a Samsung Galaxy S2 or a HTC One X or any one of a number of other phones. However, if you are on a tight budget, then this is, hands down, the best bang you can get for your buck.