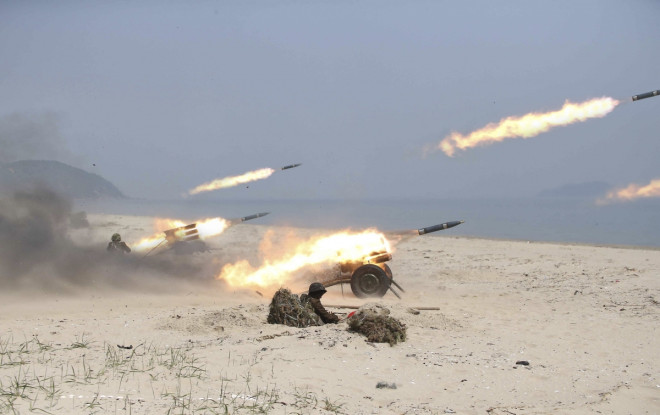 North Korea has fired missiles into disputed waters near a South Korean warship, according to South Korean media.
"The shells fell near our ship which has been on regular patrol in our territory, but it did not cause any damage to our ship," a spokesman from South Korea's Ministry of Defence said.
The shells fell near Yeonpyeong island which is situated on the disputed western maritime border which has been a flashpoint between the two countries, according to South Korean Yonhap news agency.
On Tuesday South Korean military fired artillery at a North Korean vessel and residents on Yeonpyeong were evacuated to bomb shelters, YTN news channel reported. North Korea said it would retaliate.
The island was shelled by the North Korean military in 2010, killing four people.
Earlier this week, three North Korean vessels crossed the disputed maritime border and South Korea reacted by firing warning shots.
A military official in Seoul confirmed that there was no further firing from North Korea after the incident at 1800 local time (0900 GMT).
The two countries are still technically at war after a ceasefire brought fighting to an end in July 1953 but both North and South remain in a state of armed truce.