The Democratic People's Republic of Korea (DPRK) has warned it may conduct another nuclear test in a bid to counter what it calls "aggressive challenges" by the US and South Korea aimed at "stifling its sovereignty". It is believed the Communist state has conducted three previous tests, in 2006, 2009 and most recently in February 2013.
The threat, which came in a commentary in the regime's official newspaper Rodong Sinmun carried by the state KCNA news agency, said North Korea would consider all "counter-measures including nuclear test to protect the (Republic's) sovereignty and dignity."
There are fears the impoverished country may be channelling its resources into attempting to build up its nuclear arsenal and is attempting to miniaturise warheads to make it possible to strike the US.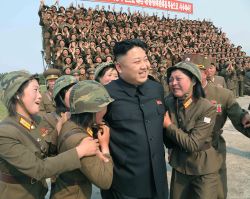 Most experts believe the country is a long way from perfecting this kind of technology but US think tank 38 North warns in a report that the republic has conducted engine tests for an intercontinental ballistic missile which, with a possible range of 6,000 miles, might be capable of delivering such a warhead to the US. "As this effort progresses, the next technically logical step in the missile's development would be a flight test of the entire system," says the report.
The think-tank, which is affiliated with the U.S.-Korea Institute at Johns Hopkins University, has noted heightened activity in recent weeks around the Punggye-ri nuclear test site. The South Korean government believes tunnels in the mountain have been sealed in preparation for a possible nuclear test and requires just an order from the country's leader Kim Jong Un.
In March, when the DPRK was condemned for firing mid-range missiles across the Sea of Japan, it retorted: "we would not rule out a new form of nuclear test for bolstering up our nuclear deterrence."
Tensions rose further in April, when Japan warned it would shoot down any North Korean missile it considers a threat. In 1998 North Korea launched a long-range ballistic missile which flew over Japanese territory before splashing into the sea.