North Korea: 'War May Break Out Any Moment'
Pyongyang severs all communication channels with South Korea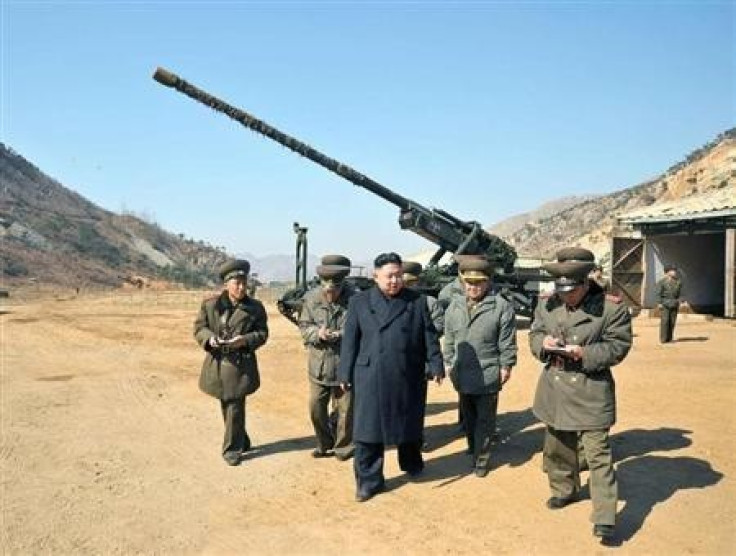 North Korea has warned that war may break out any moment in the Korean peninsula as it severed its emergency hotline link with its southern neighbour.
The latest remarks were part of a series of threats Pyongyang has issued in recent days against Seoul and Washington, as tensions rise in the region.
"Under the situation where a war may break out at any moment, there is no need to keep North-South military communications which were laid between the militaries of both sides," a North Korean military spokesperson told the official Korean Central News Agency (KCNA).
"There does not exist any dialogue channel and communications means between the DPRK and the US and between the North and the South."
North Korea maintained that a pre-emptive nuclear strike on the US mainland and South Korea was still an option. North Korea's artillery units are said to be at the highest level of combat readiness - but analysts were sceptical that Pyongyang would start a war.
The military hotline has been used for communications to prevent accidental skirmishes. The link was established in 2006.
"I inform the South side that the North-South military communications will be cut off and the members of the North side at the military communications liaison office in the [Demilitarised] Zone under the control of the North and the South in the west coastal area will stop their activities from this moment," said a Pyongyang government official.
"The North must take immediate steps to reconsider its actions," said a South Korean unification ministry official.
Seoul's troops on the border were at highest alert status briefly but were stood down after no serious signs of troop movements in the North were detected.
© Copyright IBTimes 2023. All rights reserved.