Police have released a video of a "shocking" and "deliberate" hit-and-run in Norfolk which saw the victim thrown into the air and land 15 feet away with a broken pelvis and serious leg injuries.
The CCTV footage shows a dark coloured car, believed to be a blue Peugeot 307, entering a car park in North Walsham before driving towards a group of three friends.
The driver then heads at high-speed towards the 30-year-old victim, hurling him into the air and bouncing off the bonnet onto the ground. The car circles around and appears to attempt to run over the injured man — who manages to crawl out of its path at the last minute — for a second time.
Norfolk Police say the assailant fled the crime scene, at Vicarage Car Park, towards Bacton Road. They believe there may have been up to three other people in the vehicle at the time, one of them female.
Officers are treating the incident, which happened at 12.55am on 23 July, as attempted murder and have asked anyone with information to come forward.
A 43-year-old man from the Wymondham area has since been arrested, and is currently on police bail pending further enquiries.
Detective Chief Inspector Stu Armes said: "The footage we have released today is shocking and I appreciate some people could find it distressing. However it reflects the seriousness of the incident and how it could have had potentially fatal consequences for the victim.
"The victim has suffered serious injuries and has been left extremely distressed by his ordeal. Whilst the motivation for the incident remains unclear, we are treating it as attempted murder and at this time we believe it is an isolated incident.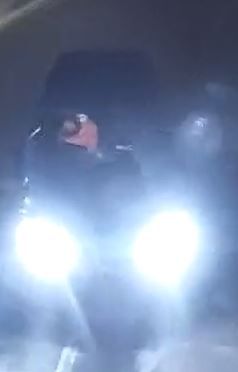 "We are appealing to the public to assist us with our investigation. We have made a number of enquiries so far; however, we are keen to locate the car involved in this collision and would appeal for anyone who may know of its whereabouts to contact police.
"We are also appealing for help to identify the driver of the car or the passengers who were in the vehicle at the time of the incident. It is believed there could have been up to three other people in the car at the time, one of them a female.
"I would encourage anyone with information, however small, to contact police immediately."
The victim was taken to the Norfolk and Norwich Hospital where he remains in a stable condition. He suffered a broken pelvis and serious leg injuries.
Anyone with information should contact Great Yarmouth CID on 101 quoting Op Kew. Alternatively contact independent charity Crimestoppers anonymously on 0800 555111.