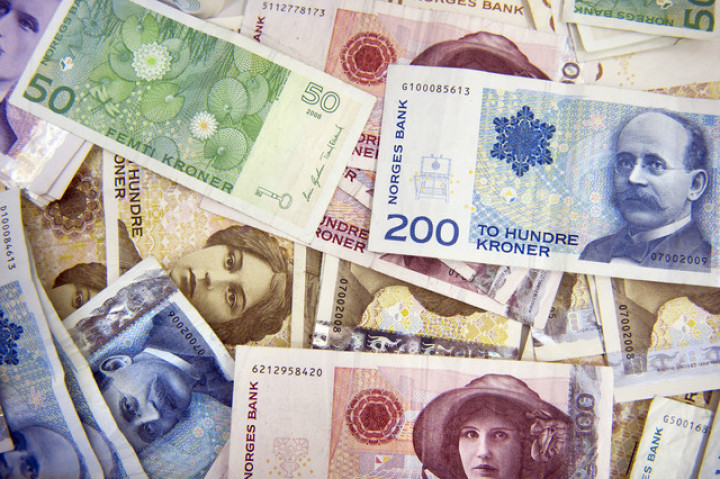 Norway's krone rallied to new two-month highs versus the euro and sterling on 12 August, a day after data showed Norwegian consumer price inflation rose to a six-month high, easing the pressure on the central bank to further reduce interest rates.
The consumer price index for July increased 0.7% month-on-month, posting a strong rebound from June month's -0.2% reading.
From a year earlier, inflation quickened 2.2%, its highest reading since February, and sharply higher than 1.9% in June, data showed on Monday. This compares to Norway's official inflation target of 2.5%.
Norway's core inflation was 0.6% on a month-over-month basis from -0.2% in June, and on year, it rose to 2.6% from 2.4%.
EUR/NOK, the most active NOK cross, fell 8.2769 from 8.3743 following Monday's data, and extended the losses to 8.2535 on Tuesday, its lowest since 19 June.
The krone thus dropped nearly 1.5% against the euro after the inflation data.
GBP/NOK fell to 10.3588 on 12 August, its lowest since 24 June, strengthening krone almost 1.2% against sterling following the inflation data.
From the early low of 8.45 against the euro, the krone has strengthened nearly 2.4% with Tuesday's rally, and against the pound, it has risen almost 3% from near 10.67, during the same period.
USD/NOK has fallen to a 20-day low of 6.1735 on Tuesday, strengthening NOK more than 1% against the greenback following the CPI data on Monday.
The Norwegian currency strengthened to a two-month high against its neighbour SEK on Tuesday, also helped by weaker than expected data from Sweden.
Swedish consumer price inflation slowed 0.3% month-on-month in July after rising 0.2% in June, data showed on Tuesday. The year-on-year reading was 0.0% compared t0 the 0.2% rise posted in the previous month.
NOKSEK rose to 1.1149 on Tuesday, its highest since 13 June, translating to a 0.8% rally from Friday's close.
Interest Rates and Data
Norges Bank, Norway's central bank on 19 June decided to keep its key interest rate unchanged at 1.5%, where it has been held since March 2012. The bank, however, sees the possibility of the first hike by the end of next year.
"The analyses imply that the key policy rate be held lower longer than previously projected. There are prospects that the key policy rate will remain at about today's level to the end of 2015, followed by a gradual rise," Governor Oystein Olsen said in the policy statement.
"A further weakening of the outlook for the Norwegian economy may warrant a reduction in the key policy rate," Olsen said.
Now with inflation rising near the official target rate, fears of such a reduction have eased.
Norges Bank projection of CPI inflation is somewhat below, but close to, 2.5% in the years ahead, the 19 June policy statement showed.
The next Norges Bank rate decision is on 18 September.
June retail sales and July trade balance data will be the next data points from Norway this week, but the market will be more keen to see the Q2 GDP numbers on 21 August.
In the first quarter, Norway expanded 0.3%, rebounding from the previous quarter's -0.2% reading, data on 6 May showed.