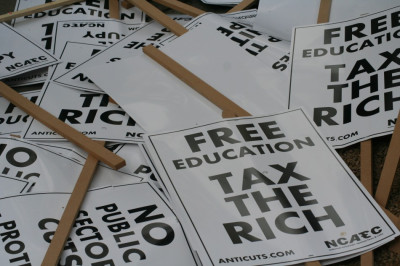 Around 10,000 students were in London today for the latest wave of demonstrations against the government's higher education policy.
Hundreds of millions of pounds are being cut from universities' budgets, the cap on tuition fees has trebled to £9,000 a year, and EMA (educational maintenance allowance) is being drawn back.
Students marched through the City of London in a "day of action".
It was organised by the National Campaign Against Fees and Cuts.
"We are being told by a cabinet of millionaires that we will have to pay triple tuition fees," said lead organiser Michael Chessum.
Metropolitan Police were out in force, with 4,000 officers on the capital's streets.
They were authorised by commanding officer Simon Pountain to use baton round guns - rubber bullets - if the protests get violent.
Past student demonstrations in March 2011 and November had seen pockets of violence break out across central London.
Some London-based anarchists promised that the "global sea of rage" will see "the next crash of waves" in London.
The protests ended peacefully with only isolated incidents of violence. The Metropolitan Police can be pleased with their work and organisation.