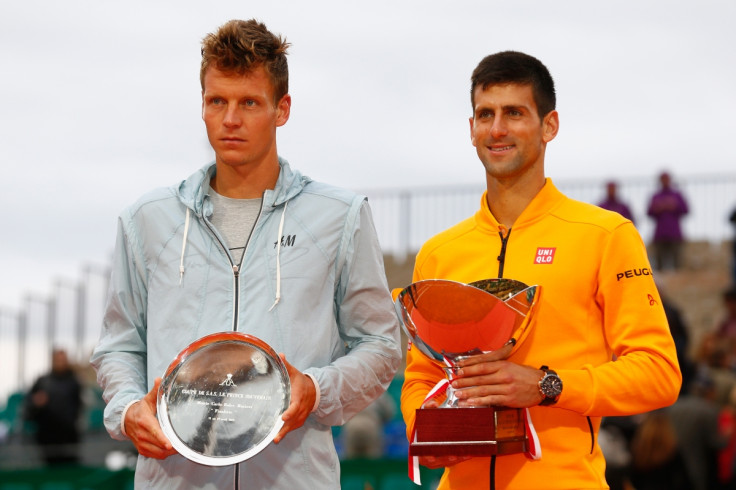 Novak Djokovic and Tomas Berdych duel in the final match of the Stan Smith group at the ATP World Tour Finals.
Where to watch
Djokovic vs Berdych is live on Sky Sports 1HD and BBC Radio Five Live sports extra at 8pm.
Preview
Novak Djokovic and Tomas Berdych face a potential straight shoot-out for a semi-final place at the ATP World Tour Finals in London. Djokovic is the overwhelming favourite to progress and could require only a set against an opponent he has never lost to on a hard court.
Both players' fortunes will be shaped by Roger Federer and Kei Nishikori's afternoon match. Any win for Nishikori means Berdych will be knocked out before his third match begins, but it will require Djokovic to win to progress alongside Federer.
Berdych's only chance of qualifying first relies on Federer beating Nishikori by any method and then overcoming Djokovic in straight sets for the first time since 2010. The Czech knocked Djokovic out of Wimbledon five years ago and will require similar heroics to retain any interest in London. However, Berdych has taken just one set from Djokovic in their four previous meetings at the season-ending tour finals.
Should Federer prevail, it will leave Djokovic needing only a set to progress but after slipping to a straight sets defeat to the Swiss player in his second round match and losing his 23-match unbeaten run he will be keen to send a message to his rivals. The three-time defending champion cannot finish top of the group, even if Nishikori beats Federer.
What the players say
Novak Djokovic: "Of course you never want to lose as an athlete. You're not coming to these matches and these tournaments to lose, you're coming to win. Of course, as I said before, I need to now reflect on the things I've done wrong tonight, why this happened, and keep moving forward, as I said.
"This is the last week of the year. Obviously it's been a long season. But I need to push myself mentally, physically, emotionally as far as I can basically in this tournament. I have another group stage match and I need to win it to get through.
"In a way I want to forget about it, the way I felt and played. But, again, the day that I have between the two matches will allow me to reflect on this match with my team, work on things that didn't go the way I wanted them to go."
Tomas Berdych: "Next match is against Novak. Another one to play with him, challenge him, just try to have a good one for the last match of the season. That's it. I'm just going to try to go there, try to play some good tennis, and that's it.
"I think the season has been pretty good. It's been very well through the whole year. Also in the terms, as you said, it's a new team and new things.
"As you look at the season, there is basically no time to do anything, to work on some specific things. I mean, we're playing from the first week of January till now. You also need to have some time to rest and time to get prepared between the tournaments. So really the time for the real changes, it's going to take time."
Betting odds (source William Hill):
Novak Djokovic 1/16 vs 15/2 Tomas Berdych
Head-to-head record: Djokovic 20-2 Berdych. Last match Paris Masters (hard) Djokovic bt Berdych 7-6 7-6
Previous meetings at the ATP World Tour Finals: Djokovic 4-0 Berdych. Last match Djokovic bt Berdych 6-2 6-2