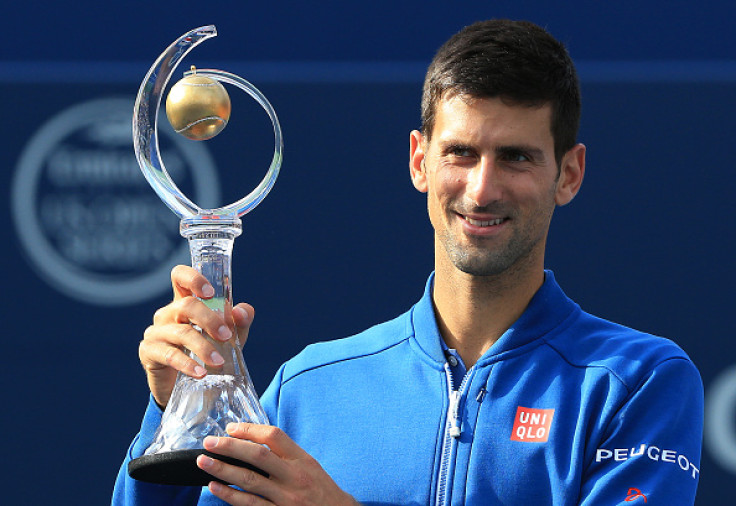 World number one Novak Djokovic continued his dominance of the tennis world, beating Kei Nishikori in the final of the Rogers Cup to claim his fourth title at Toronto. The Serb, who looked in control from the start, overcame a late challenge from Nishikori to eventually win 6-3, 6-5, needing just an hour and 23 minutes to wrap up the match.
Djokovic, created another slice of history on 31 July, becoming the first player to clinch 30 ATP World Tour Masters 1000 titles. In fact, the win at Toronto was the Serb's seventh crown of the year and fourth at Masters 1000 level, adding to victories in Indian Wells, Miami and Madrid.
The 29-year-old, who won the event in 2007, 2011 and 2012 is now second on the list for most wins at the Rogers Cup in the open era, behind Ivan Lendl who has six.
"I guess when my coach was speaking last night and this morning, I was listening. My best two performances came in the semi-finals and final. It came at the right moment for me. It's a process like any other that has happened many times in my career, where I would start a tournament still feeling a little bit uncomfortable on the court and searching for my rhythm and then as the tournament goes on, I find that proper comfort level with shots, with the way I feel, with my mental attitude" Djokovic was quoted as saying by atpworldtour.
The Serb continued his rivalry over Nishikori, winning his ninth straight encounter against the Japanese-born tennis player. He now has 66 tour-level crowns; just three titles less than the overall leader Rafael Nadal.
With the Rogers Cup title in the bag, Djokovic has now set his sights on the Olympics, where he aims to win at least one medal.
"I don't need to explain that every athlete dreams of being a part of the Olympic Games. I'm competing singles and doubles. Hopefully I'll get at least one medal."