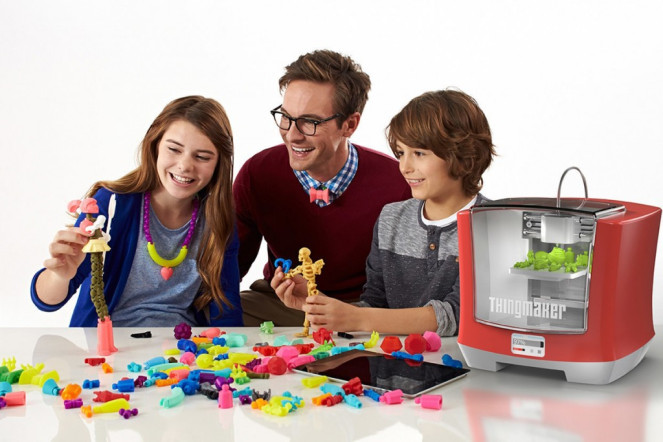 Mattel has resurrected its ThingMaker modelling kit for the 21st century in the form of a child-friendly 3D printer that allows kids to print their own toys at home. The new ThingMaker has been reinvented with modern technology and goes on sale later this year for $299 (£210, €270).
The revamped version of Mattel's much-loved 1960s toy maker, which let children create figurines by pouring liquid plastic into metal moulds, comes with a companion app for Android and iOS devices allowing children to design and print their own figurines. According to Toyland, the app features "very sophisticated 3D modelling software" and comes pre-installed with "dozens" of blueprints for dinosaurs, skeletons and scorpions, as well as necklaces, rings and other pieces of jewellery. Children and parents alike can also design and print custom pieces.
To make the ThingMaker child-friendly, Toyland says Mattel is putting a number of safety measures in place to keep curious hands at bay. This includes a locking mechanism that activates when the printer is in use and a retractable printing head. On the software side, Mattel has teamed up with Autodesk to make sure the devices' companion app is responsive, stable and accessible for kids.
Like standard 3D printers, Mattel's ThinkMaker will use a hard PLA plastic filament, although a Mattel spokesperson told Mattel that other printing materials can be expected further down the line, meaning glow-in-the-dark and colour-changing materials could be on the cards. Speaking to USA Today, Mattel senior director Aslan Appleman said the company was also planning to introduce blueprints for its own brands, which suggests kids will eventually be able to print their own Barbie, HotWheels and Fisher-Price toys at home.
The Mattel ThingMaker went on show this year's New York Toy Fair alongside the company's new, hoverboard-equipped Barbie and virtual reality headset. Kids these days – they don't know how lucky they are.