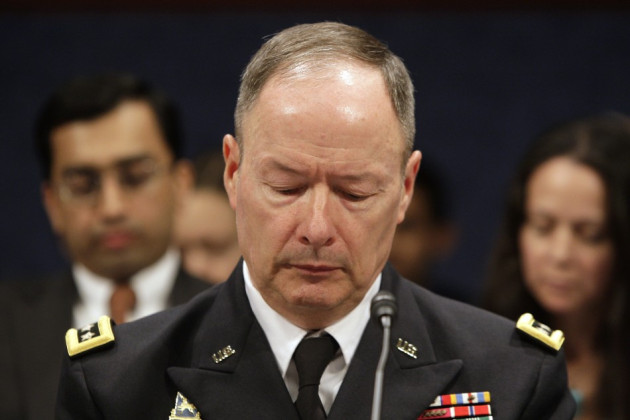 The chief of the US National Security Agency has defended Washington's spying programmes and said they had helped to thwart no less than 50 terror attacks since 9/11.
During a House of Representatives Intelligence Committee Hearing, Keith Alexander said the recent exposé by former CIA employee Edward Snowden over the covert Prism programme has caused "irreversible" damage to national security.
Alexander has also vowed to submit details to the lawmakers about all the thwarted terror attacks within 24 hours. According to deputy FBI director Sean Joyce, one of the foiled terror plots targeted to bomb the New York Stock Exchange.
When Joyce was asked what is waiting for Snowden after the leaks, he gave a one-word answer: "Justice."
This was the first public hearing since the disclosures which rocked the American intelligence agencies over the last few days. The hearing has been held as part of Washington's measures to set the record straight, said the members.
"I think it was irreversible and significant damage to this nation. I believe it has and I believe it will hurt us and our allies," Alexander said.
"I would much rather be here today debating this point than trying to explain how we failed to prevent another 9/11. In recent years these programmes, together with other intelligence, have protected the U.S. and our allies from terrorist threats across the globe to include helping prevent ... potential terrorist events over 50 times since 9/11," the NSA head said in a rare hearing.
The members of the House Intelligence Committee and the FBI have also passionately defended the NSA programmes.
"People who are sceptical of the program have no understanding of what the programme is," the Republican chairman of the intelligence panel Mike Rogers told reporters soon after the hearing.
Democrat Dutch Ruppersberger said the revelations have "put our country and our allies in danger by giving the terrorists a really good look at the playbook that we use to protect our country. The terrorists now know many of our sources and methods."
The majority of members of the committee have come out in open lobbying for surveillance programmes, however a handful have criticised such measures.