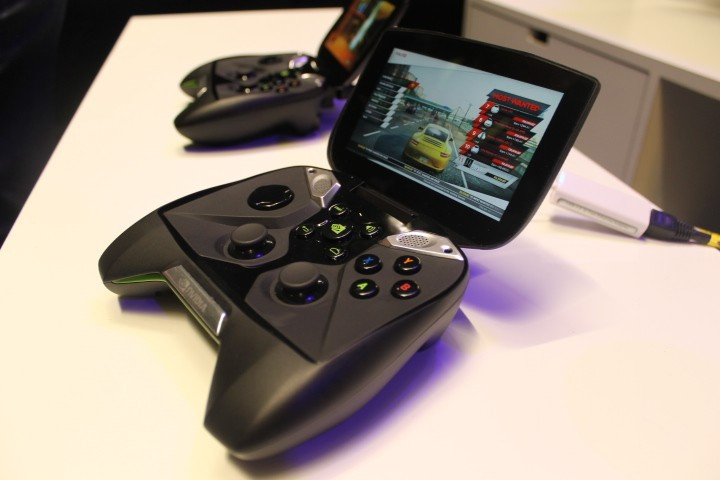 The most surprising and interesting announcement of CES 2013 so far has been Nvidia's handheld gaming console called Project Shield. The Android-based console features a flip-up screen, physical controls, Nvidia's new Tegra 4 processor and will allow you to stream your PC games onto the console's 5in HD screen.
Project Shield has divided opinion, with some gamers getting very excited about the possibilities it presents, while some journalists have said the device is being launched five years too late, as standalone handheld gaming devices are no longer in demand.
I got a chance to talk to Igor Stanek, head of Tegra PR for Nvidia about the new device as well as getting a chance to try it out, playing both Android games directly on the console and playing PC games streamed from a nearby PC.
In order to assess Project Shield, I'm going to talk first about the hardware and how the device works, before addressing the issue of whether or not there is a market for Nvidia's console, which has been five years in the making.
Hardware
It should be noted that the devices on show at CES are pre-production models, though Nvidia did indicate they are very close to the final retail design.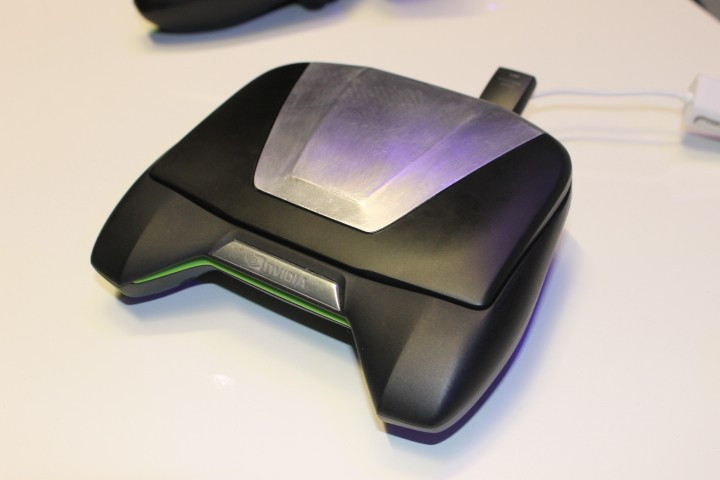 The first thing I noticed about the console was how much it looked like an Xbox controller with a 5in screen attached to the top. The button layout including the joysticks, D-Pad, triggers and bumpers are all in the same place as on one of Microsoft's controllers.
Project Shield is bigger and bulkier than an Xbox controller however, and not just because of the screen - there is a processor, RAM and flash storage to consider too. In terms of overall size, Project Shield is significantly bigger than a Nintendo 3DS, even the XL version but is not so big as to make it too bulky to carry around.
It weighs around 450g but I liked the weight, it gave the console a feeling of solidity. I was only playing with it for a short period and the weight could become a problem for extended gaming sessions.
The screen hinge felt night and solid when opening it up, though others have said the devices they were using felt flimsy. Again, as these are pre-production models, we'll have to wait until the final models come out before passing judgement on something like build quality.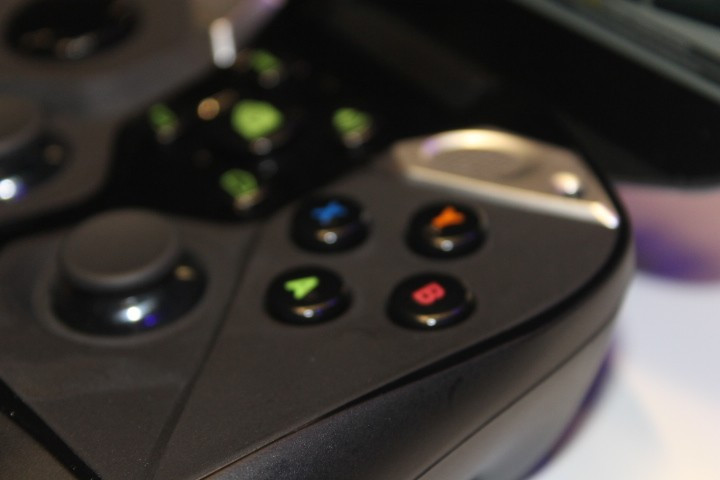 The 5in HD screen is excellent however and the LED-backlit LCD display has good viewing angles and great colour reproduction.
The action on the buttons is also excellent, with the exception of the D-Pad which felt flimsy and not very accurate. The shoulder buttons and joysticks were accurate and responsive, while all the buttons had decent travel and good feedback.
Project Shield is the first device to be confirmed to be powered by the Tegra 4 SoC and as such the stock Android interface flies along, and all of the games I tried on it played flawlessly - which you would expect as they came from Nvidia's own Tegra Zone game store.
With a 72-core GPU, Tegra 4 is built for this purpose, and during the press conference Nvidia CEO and co-founder Jen-Hsun Huang demonstrated how it could handle outputting a game from the console to a 4K TV via HDMI.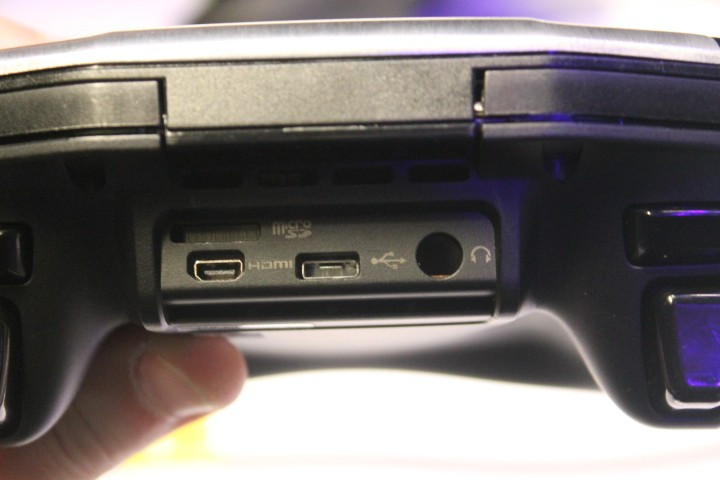 As well as HDMI, you get microUSB and microSD slots, along with a headphone jack on the back. The internal configurations are still being finalised, but the demo models came with 2GB of RAM and 32GB of storage.
You also get Wi-Fi (3G and/or 4G is being considered for future versions) allowing you to stream high-end games from your PC to Project Shield. However this can only be done if you are using a specific set of Nvidia GeForce graphics cards in you PC, and have optimisation software installed.
I was able to try this out too and found there was very little lag between my inputs on the console and response on the screen. Of course this can also be outputted to a large TV, meaning it make playing PC games from the comfort of your couch a bit easier.
Purely in terms of what it promises and what it delivers, Project Shield is a success. However, are there enough people looking for this solution to make it a financial success for Nvidia.
Market
The handheld gaming market has been struggling of late. The PS Vita has been a disaster for Sony, failing to reach anything like the targets the Japanese company would have set itself. The Nintendo 3DS has done a little better, but only after Nintendo cut the price dramatically.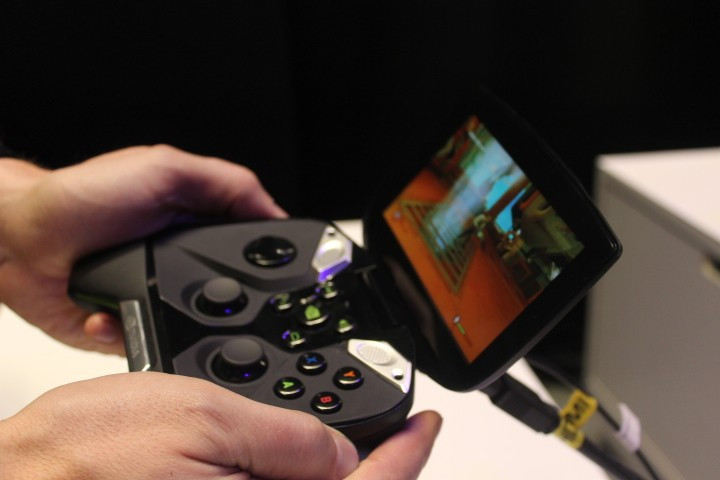 The need for a dedicated handheld gaming console has dried up as smartphones and tablets have become more and more sophisticated. Aside from hardcore gamers who will buy the dedicated devices no matter what, the huge volume of more casual gamers which the likes of Nintendo and Sony have attracted in the past are now passing up the Vitas and 3DS in favour of the iPhone and Galaxy S3.
Stanek however says that comparing Project Shield to the consoles from Nintendo and Sony is not applicable. He says they are "different products," and are "not direct competition to Project Shield.
"[They have] totally different business models - sell the hardware at a loss and then earn the money on the games. All the games and everything for the system is proprietary, you need to buy whatever Sony or Nintendo tell you to. Project Shield is different, we want to earn the money on the hardware."
It may be different, but having to make the money on the hardware means only one thing, a high price point. And this will be another reason for people not to buy the product.
Stanek also pointed out that there are thousands of titles available to play from the beginning on Project Shield, something Nintendo or Sony could only dream of at the launch of a new handheld console.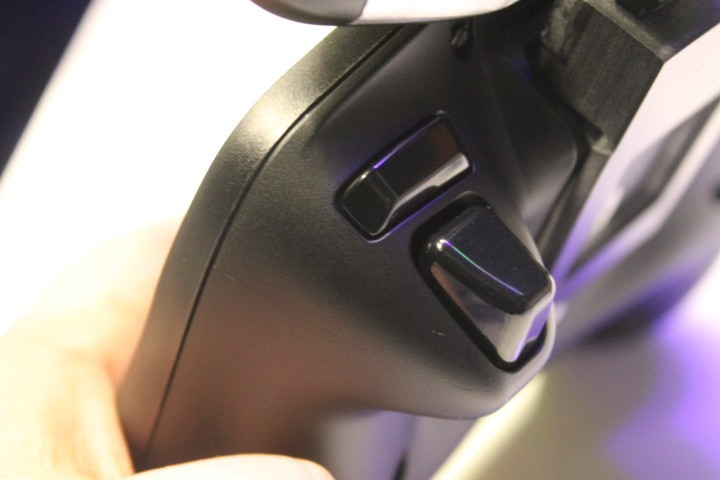 He also points out that the system is completely unlocked and can be modified any way the user wants, but again this points to Project Shield being a very niche device. It means that users will have to buy another device for there house, but Stanek says it offers nothing any other product can do, which will make it appealing gamers.
Having played with the device, albeit briefly, I really like it, and the physical controls mean Android games become that much more accessible. However, the question is would I buy one? and the answer is, unless it cost less than £100, probably not.
However if I had a PC with a GeFroce graphics card and I wanted a way to play my PC titles on my HD TV in the living room, then it would be much more appealing.
Only time will tell if Project Shield becomes and success or not, and with a tentative release date of Q2 2013, it will be some months yet before we find out.