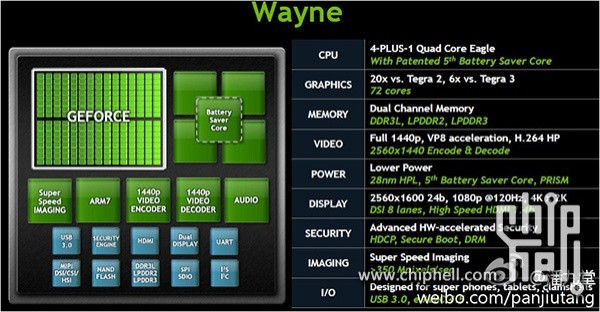 The NVIDIA Tegra 3 chipset, courtesy four processor cores and a 12-core GPU, has provided stiff competition to Samsung's Exynos, Qualcomm's Snapdragon and Apple's leading Ax series chipsets.
NVIDIA is now working on the next generation of Tegra chipsets, according to Android Soul. These are likely to be released next year.
Details of the Tegra 4 chip, codenamed Wayne (after comic book superhero Batman), have surfaced on Chip Hell. The report states the new Tegra chipset will be based on the power-efficient 28nm ARM Cortex-A15 architecture and be powered by a 72 core GPU. The Tegra 4 has six times the number of graphics cores as its predecessor.
The hardware configuration suggests the Tegra 4 brings support for high display resolutions up to 2560 x 1600 pixels and 1080p video playback at 120Hz. The Android Soul speculates on support for 4K resolution, which is a resolution specifically used in cinemas and ultra-high-definition digital TV. The leaked image (above) further suggests support for DDR3L, LPDDR2 and LPDDR3 dual channel memory and security features like High-Bandwidth Digital Content Protection (HDCP), Secure Boot and Digital Rights Management(DRM).
In addition, USB 3.0 connectivity is expected to continue, which is likely to mean continued use in Microsoft's Windows RT tablets; these use the Tegra 3 chipset.
The Tegra 4 is expected to release at next month's Consumer Electronics Show (CES). The Tegra 3 released with device-specific game titles and this trend is likely to continue with the Tegra 4.