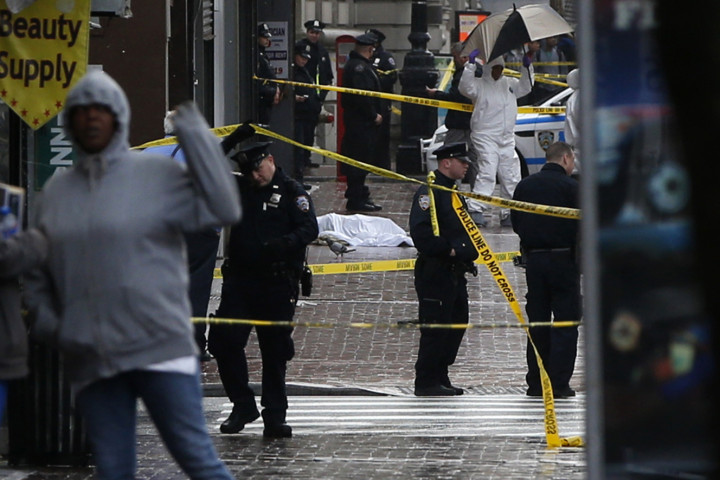 Two New York City police officers who attended the apartment of New York's first confirmed Ebola victim have been captured on video discarding their protective gloves and masks in a public rubbish bin.
It was not immediately clear if the officers had been inside Dr Craig Spencer's Harlem apartment, but the video, which was published on the Daily Mail's website, spread concern throughout the city.
Several social media users took to Twitter to criticize the NYPD for discarding the items publicly.
On Thursday, it was revealed that Spencer spent seven days in New York after returning from Guinea with the Ebola virus in his bloodstream.
On Tuesday, the Doctors Without Borders physician reported suffering from fatigue and exhaustion, before taking the subway from his Harlem home to the High Line, a park popular with tourists.
The following day, the doctor went running for three miles on Riverside Drive and the Westside Highway in Manhattan, before taking the subway to The Gutter bowling alley in Brooklyn.
Spencer's Ebola infection was confirmed on Thursday evening, but officials said he had no symptoms while he travelled across New York in the preceding days, and was almost certainly not infectious.
Quarantine
Spencer was not advised to quarantine himself for 21 days on his return to the US, but had been monitoring his temperature twice a day.
He was taken to Bellevue Hospital on Thursday, and his fifth floor apartment was sealed off by specialists from the New York Fire Department, who were clad in hazmat suits. Police also blocked off West 147th Street between Broadway and Amsterdam.
In a press conference on Friday, New York City Mayor Bill de Blasio said: "Ebola is an extremely difficult disease to get. Every hospital in the city is prepared in the event other patients come forward."
However, New York State governor Andrew Cuomo, said four people were potentially exposed to Spencer during the "relevant period": his fiancée, two friends, and the driver of a taxi he rode in.
The Brooklyn bowling alley Spencer reportedly visited on Wednesday evening closed on Thursday following Ebola fears.
The owners of The Gutter said in a statement: "We are working with the NYC Health Department to have the bar cleaned and sanitised under their supervision, and expect to be open sometime today after that is completed. Doctors advising the health department have told us that our staff and customers were at no risk."