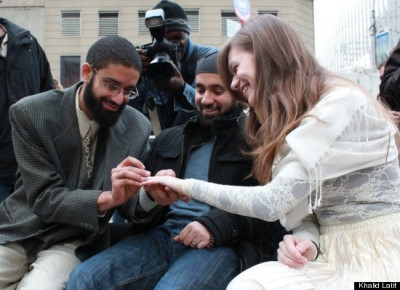 Just two days before the NYPD moved to forcibly evict Occupy Wall Street Protesters from Zuccotti Park on Tuesday, a couple who met at the protests tied the knot in the park that had been their home for the past two months.
Micha Balon, 19, and Emerr Abdel-Latif, 24, made their vows to each other in front of hundreds of other protesters in the Occupy encampment in lower Manhattan on Sunday.
Balon told reporters that getting married in the park was "a good way not to make the marriage about ourselves." She added: "We are fighting for equality here."
The couple, who are both Muslim, met six weeks ago when they were both searching for a suitable place to pray in Zuccotti Park. "Neither of us believed in love before we came here, and now that we found each other, we believe it exists," said Abdel-Latif.
Their wedding is not the first of its kind at an Occupy protest. In October, Alicia Nauss and Adam Hill married each other in front of fellow protesters at the Occupy camp in Philadelphia.
Also in October, another protester got down on one knee during a demonstration and proposed to his girlfriend, asking her to "occupy" his life. She accepted.
Police in New York earlier this week clamped down on the Zuccotti Park encampment, blocking access to journalists and TV stations and creating a media blackout that stoked fears of police brutality.
Events came to a head on Thursday, when protesters marched on the stock exchange to demonstrate against the Zuccotti Park eviction, prompting an aggressive and reportedly violent police backlash against the anti-capitalist activists. BBC reports that at least 300 people have been arrested.