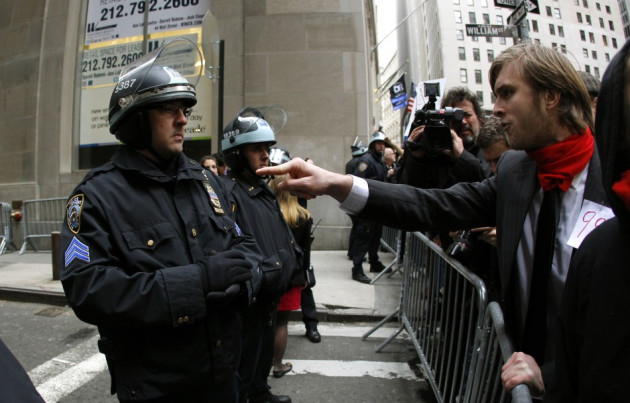 Occupy Wall Street protesters and police have clashed on a day of bitterness and violence in America's financial capital.
In ugly scenes, protesters and police faced one another in a tense standoffs, with the former ready with cameras to photograph of policemen using violence against the demonstrators.
Chants of "We are the 99%" rang out, as well as the American national anthem which sung by the 1000 strong crowd.
Any arrests were met with boos and the banging of pots and pans, as well as organised chants led by individual members.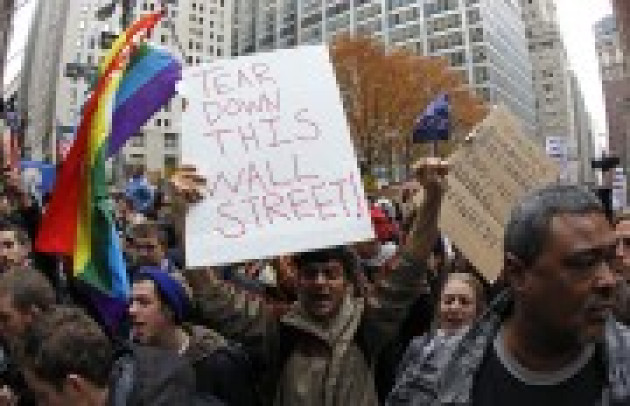 Two days have passed since campers were evicted from Zuccotti Park and, with today marking the two month anniversary of the Occupy movement, the protesters promised to be a "day of action".
By 8am, demonstrators had already starting gathering, threatening to occupy the 16 local subway station from Foley Square to the Manhattan's Courthouses.
Kristin Gardner, 46, a former teacher, carried a sign that read "40,000 in student loans where's my bailout." She said she didn't know what would become of the movement, but added, "I hope we make a statement to our government that changes the focus of what is important."
One woman wearing a black Burberry coat and carrying a briefcase appeared frustrated but was smiling as she was slowed by the crowds. Another, Fran Grau, 51, who works for a nonprofit in the Wall Street area, said she had come to work early after hearing of the "day of action" plans. "I'm excited in a sense," she said of the demonstration, as she stood blocked on a sidewalk by protesters in her path.
Bill Dobbs, an Occupy Wall Street press spokesman, estimated there were about 1,500 marchers. Despite Tuesday's eviction from Zuccotti Park, he said the movement was solid. "We are here making a loud outcry about economic conditions of this country. It's been two months, and nobody thought we could get past one day," he said.