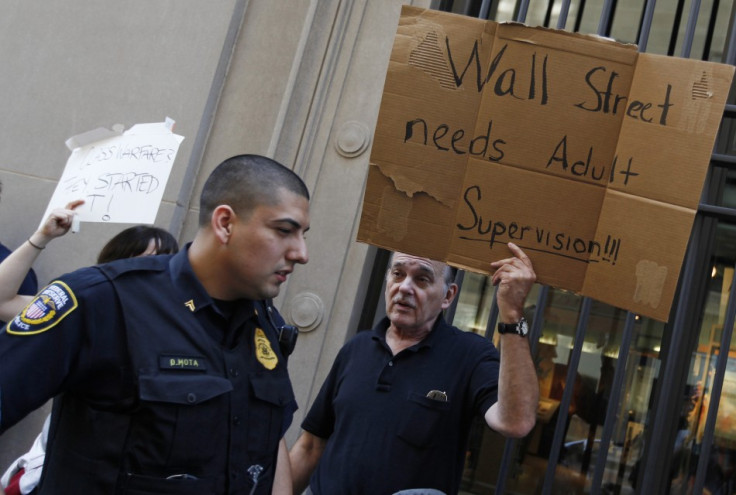 Following Occupy Wall Street protesters' initial victory over the NYPD, fresh evidence has emerged suggesting police have not given up in their efforts to forcibly evict protesters from Zuccotti Park, with reports suggesting riot police have been called to help "manage" the situation.
News of the riot police's potentially imminent arrival broke via the protesters' media stream, when a number of individuals received reports from "scout" protesters that riot vans where encircling the park.
"Update from Ground: "40 cops in riot gear spotted at Broadway and Exchange Place." #OWS #99Percent #OccupyWallstreet" read a tweet by the Anonymous collective regarding the riot police involvement in the eviction.
Prior to the news, protesters had been celebrating what they took as a key victory, managing to stall New York law enforcement's plans to evict them from Zuccotti Park.
Since being announced Thursday protesters had been suspicious of the planned clean-up viewing "cleaning the park" as a pretext for eviction.
The protesters' suspicions arose when alongside the announced 7 am cleaning, NYPD added the caveat that once the park was cleaned, the police would begin enforcing its previously ignored anti-camping rules.
At the time this article was written, though there were a significant number of officers surrounding the outskirts of the park, the police were not engaging the protesters.
Despite the police stand-off approach, intermittently the live video feed was interrupted by police sirens, indicating that even if riot police are not going to be involved in the eviction, the NYPD is increasing its presence.
A video feed showing the Occupy Wall Street protest can be viewed here.