Orange has overtaken TalkTalk at the top of Ofcom's broadband complaints chart in the UK, while TalkTalk continued to receive the most complaints from landline customers for the eighth quarter in a row.
Ofcom has just published it latest quarterly figures for complaints it receives about providers in the broadband, mobile, landline and pay TV markets, with the telecoms regulator saying it receives around 300 consumer complaints each day across all services.
TalkTalk had been the most complained-about broadband provider every quarter for the last two years, but a spike in complaints this quarter due to Orange withdrawing its free broadband offer unless customers paid for line rental from elsewhere took it to the number one spot.
For broadband complaints the industry average remained the same as last quarter at 0.24 complaints per thousand customers, down from 0.36 a year ago.
Orange recorded twice the industry average wiith 0.5 complaints per thousand customers, mainly due to the spike in complaints during September when the company required its customers to start paying for line rental at a cost of £14-per-month if it wanted to keep their free broadband.
In a statement to Recombu, the company, now owned by EE, said: "We are of course disappointed by these latest results and will take on board the findings of the Ofcom report as we strive to offer our customers the best service at all times."
TalkTalk was the second most complained about broadband provider with 0.35 complaints per thousand customers, while BT was third with 0.34, Virgin was fourth with 0.12 and Sky fifth at 0.09.
The complaints recorded by Ofcom are not those logged with the service providers themselves, but by customers who are unsatisfied with how their complaint to the provider was handled, and have since contacted Ofcom about the problem.
Landlines
TalkTalk remianed the most complained-about landline provider for an eighth quarter running, but the number of complaints recorded against the provider has dropped from 0.52 complaints per thousand last quarter to 0.39 for the three months to the end of September, mainly due to a significant reduction in billing-related complaints, Ofcom said.
The network has been the most complained-about landline provider since Ofcom began publishing its results in the fourth quarter of 2010, but the reduction from 1.16 complaints per thousand customers back then to 0.39 now brings TalkTalk much closer to the competition
At 0.21 per thousand customers BT came second, marginally above the industry average of 0.20, with Sky and Virgin Media both on 0.12; BT was the only company to see a rise in complaints from the previous quarter, up from 0.19.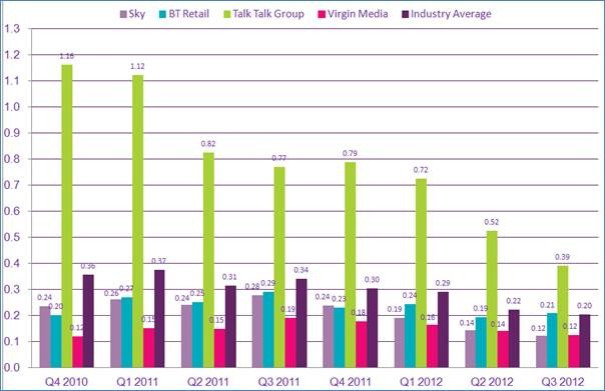 Overall, the industry average has fallen from 0.34 a year ago to 0.2, showing that improvements in customer satisfaction are being made across the board.
Mobile contracts
For mobile networks it was T-Mobile customers who complained to Ofcom the most, with 0.17 complaints per thousand customers; this was above the industry average of 0.13, along with Three and Orange (both 0.16), Vodafone (0.14), and Virgin at 0.1.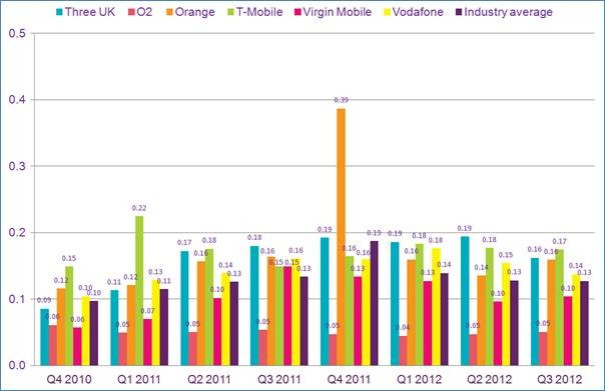 The industry average for complaints to Ofcom about mobile networks remains the same as last quarter, and the same quarter a year ago, despite a spike to 0.19 in the fourth quarter of 2011, driven by a huge jump in Orange complaints, up to 0.39.
As for pay-as-you-go customers, Ofcom received no more than 30 complaints per month about any provider, so felt that it was "not statistically viable" to include separate data for these in its quarterly results.
Television
Finally, the pay TV sector - that's Sky, BT Vision and Virgin Media - was topped convincingly by BT, which racked up 0.23 complaints to Ofcom per thousand customers, well above Virgin at 0.06, the industry average of 0.04 and Sky with just 0.02.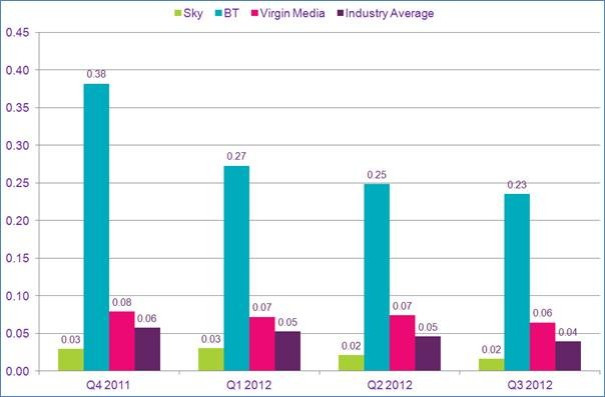 All of these figures have fallen every quarter since Ofcom started monitoring pay TV complaints a year ago, but BT has remained by far the most complained about in every quarter.
Overall, the data for Q3 shows that complaints made to Ofcom about landline, mobile and TV services are decreasing, which could mean that the services are genuinely improving, or the providers' methods of dealing with complaints are getting better, with less customers feeling the need to escalate their complaint to the regulator.