Oil Futures Bounce Back on Upbeat China Factory Data
Slowdown in China is less severe than imagined.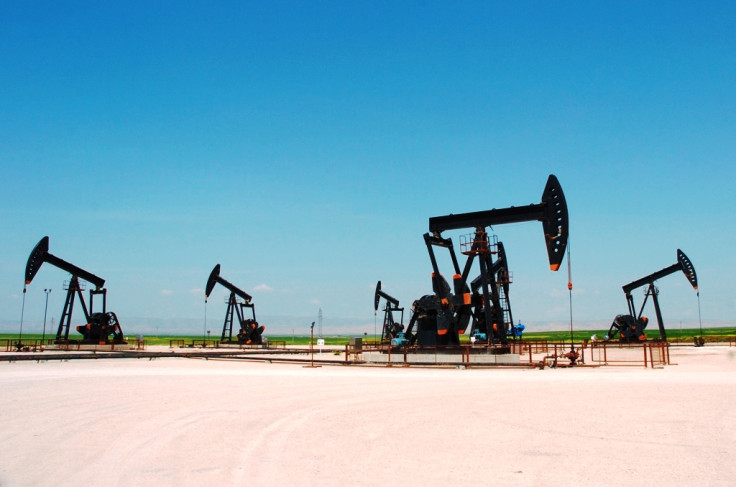 Crude-oil futures rebounded early Tuesday, after overnight losses, and continued trading in green territory, buoyed by data from China that showed that the slowdown there is less severe than imagined.
Brent November contract was trading 0.40% higher to $97.36 a barrel at 1024 BST.
WTI November contract was trading 0.36% higher to $91.20 a barrel.
The preliminary HSBC China manufacturing PMI for September rose to 50.5, compared to August's final reading of 50.2, raising expectations for higher economic activity and fuel demand in the world's second-largest economy.
Brent Picture
Commerzbank Corporates & Markets said in a note: "Brent has climbed above the $97 per barrel mark on the back of better than expected Chinese figures after having put its mid-September two-year low to the test once again yesterday. Whether positive data published by China will be enough to dispel any concerns about demand is doubtful, however. After all, the downward revisions undertaken by the energy agencies for global oil demand and for the call on [Opec] were simply too pronounced.
"Against this backdrop, pressure on [Opec] is mounting to adjust its oil supply to the lower demand, though this is not likely to happen in the near future. According to the oil minister of the United Arab Emirates, no decision has yet been taken to reduce the production target. Last week, [Opec's] General-Secretary had raised the prospect of a 500,000 barrel per day cut next year, which roughly corresponds to the discrepancy between the current production target and the call on [Opec] estimated for 2015."
"Before the next regular meeting of [Opec] takes place on 27 November there are likely to be numerous comments about a possible decrease in production, which is likely to preclude any further fall in prices. For prices to recover, however, the demand outlook would need to brighten or there would have to be significant supply outages.
"According to the ICE, money managers only slightly reduced their net long positions in Brent in the week to 16 September despite the Brent price having dropped to a two-year low in the reporting week. It would appear that most of those investors willing to sell have already exited. Speculative positioning in gasoil is net short for the first time since June 2013," Commerzbank added.
China Demand
China's oil demand also showed an improvement in August, reversing the waning trend seen in the first six months of the year.
The nation's apparent oil demand, a measure of domestic demand after accounting for changes in inventory, rose 1% in August over July 2014, with year-on-year growth returning to positive territory, Ivan Szpakowski, analyst at Citi Research, told MarketWatch.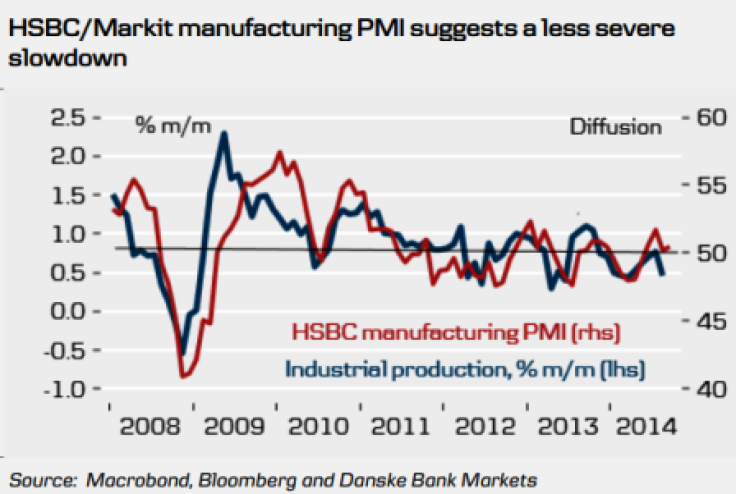 China picture.
Danske Bank
Danske Bank said in a note: "[23 September's] HSBC/Markit manufacturing PMI must be regarded as very positive news as it suggest that the slowdown in China is less severe than feared after the very poor industrial production data for August.
"The average level for the HSBC/Markit manufacturing PMI in Q3 improved to 50.8 from 49.4 in Q2 and hence (unlike industrial production) still suggests an acceleration in growth in Q3."
"The current level of the HSBC/Markit manufacturing slightly above 50 would usually suggest underlying growth in industrial production around 9% y/y (6.9% y/y in August) and GDP growth around 7.5%," the bank added.
© Copyright IBTimes 2023. All rights reserved.