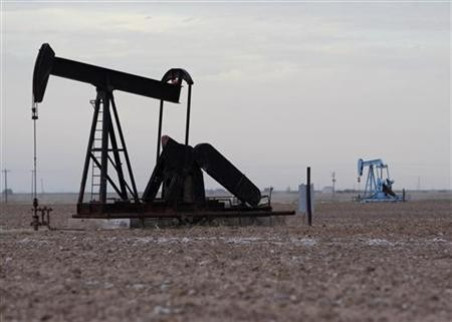 The US will overtake Saudi Arabia as the world's largest oil producer within the next decade, the International Energy Agency's (IEA) predicted for the first time, as an oil and gas boom moves the world's biggest economy closer to energy self-sufficiency.
In its annual benchmark World Energy Outlook 2012 report, published Monday, the Agency says that the US will move to first place in world production, ahead of the so-called Swing producers Saudi Arabia and Russia, bringing about a "sea change" to the oil and gas market. A swing producer has the ability to change the price of oil on global markets by varying its supply.
The IEA says that the American oil and gas boom from so-called 'unconventional drilling' has changed the world's fuel market balance, and will make the United States a net exporter of natural gas by 2020. The US is also set to be almost self-sufficient, in net energy terms, by 2035, the Agency says.
"North America is at the forefront of a sweeping transformation in oil and gas production that will affect all regions of the world, yet the potential also exists for a similarly transformative shift in global energy efficiency," said Maria van der Hoeven the IEA's Executive Director.
The IEA says overall global oil demand will grow from the current 88 million barrels per day to more than 99 million barrels per day in 2035, by which time the IEA predicts that oil prices will reach $125 per barrel. Iraq will also overtake Russia and become the second-largest global oil exporter, after accounting for 45 percent of the growth in global oil production by 2035, it said.
The IEA report says the US's oil export advance will accelerate a switch in direction of international oil trade as the vast majority - almost 90 percent - of Middle Eastern oil exports will be sold to Asia by 2035.
In the gas markets, the Agency warns that while regional dynamics change, global energy demand will grow by more than one-third before 2035. China, India and the Middle East will comprise 60 percent of that growth, the Agency says.
While the regional picture for natural gas varies, the IEA says that nearly half of the increase in global production by 2035 will come from unconventional gas - including shale gas, controversially extracted from rocks deep in the ground through so-called 'fracking'.
Fossil fuels will remain dominant in the global energy mix, supported by subsidies that increased by almost 30 percent to $523bn last year, due mainly to increases in the Middle East and North Africa.
The IEA also adds that renewable energy sources are set to become the world's second-largest power generator by as early as 2015 and will challenge coal as the primary energy generation source by 2035.
Global coal demand is to increase by 21 percent and is heavily focused in China and India, the report concluded.