Ukip has tried to turn the Oldham West and Royton by-election into a referendum on Labour's leadership. The Eurosceptics have plastered posters of Jeremy Corbyn across the consistency in a bid to convince the electorate that the 66-year-old is a "security risk".
John Bickley, Ukip's hopeful, "believes in Britain" and as a Mancunian the businessman is not cut from the same cloth as the dreaded "Westminster class". But what Nigel Farage's party fails to stress is that Bickley is up against Jim McMahon, the son of a truck driver and the young leader of Oldham Council.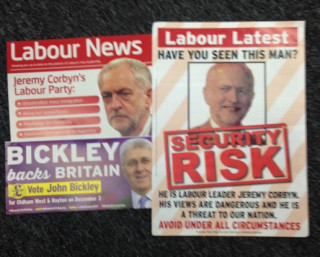 The 35-year-old saw off a bunch of left-wing rivals to secure Labour's nomination for the by-election, which was triggered after sitting Labour MP Michael Meacher died. McMahon inherits a solid majority of almost 15,000 and is tipped to win the 3 December vote.
But with Labour on the brink of civil war over Jeremy Corbyn's leadership, the bookies have shortened Ukip's odds. Undoubtedly, Bickley is a threat. He nearly caused a big upset for Labour at the 2014 Heywood and Middleton by-election by slashing the party's majority to just hundreds.
The tall Ukip treasurer will hope to go one better this time around and secure a victory. Privately, some of the party's campaigners seemed content with turning Oldham West into a marginal seat – a feat that would add to Ukip's claim that it is the only alternative to Labour in the north of England.
Elsewhere, the other main parties are hoping to live up to their own slogans. Can George Osborne's "Northern Powerhouse" help secure gains in Greater Manchester for the Tories? And can the Liberal Democrats launch their so-called fightback after a miserable general election that left them with just eight MPs?
The weather will definitely play its part. Oldham's grey, rainy skies could deter voters from venturing out to the seat's polling places. Unsurprisingly, a low turnout is expected.
Candidates for the Oldham West and Royton by-election
Jim McMahon (Labour)
John Bickley (Ukip)
Jane Brophy (Liberal Democrats)
James Daly (Conservatives)
Simeon Hart (Green)
Sir Oink A-Lot (Monster Raving Loony Party)