Oldham West by-election: Who are the candidates hoping to succeed Michael Meacher?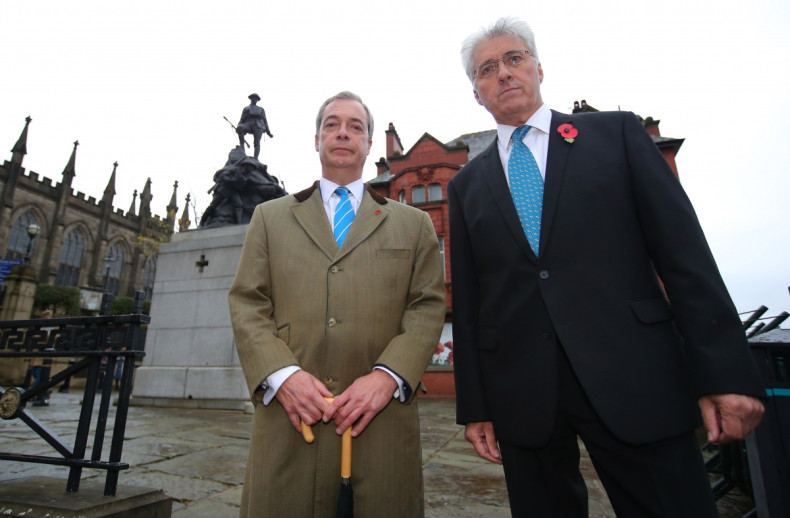 The big British political battle before Christmas will be staged in the North West of England at the Oldham West and Royton by-election. Westminster watchers will be keeping a beady eye on the 3 December vote as the result with give a limited indication of Jeremy Corbyn's popularity and Ukip's strength after a disappointing general election for the Eurosceptic party.
The by-election was triggered after former Labour MP Michael Meacher passed away on 20 October. The left-winger secured an impressive majority of more than 14,000 votes in May and easily pushed Ukip into second place (54% versus 20% of the vote). But Nigel Farage's party will hope to give a better showing in the Greater Manchester constituency ahead of the 2016 local elections and EU referendum, which will be held before the end of 2017.
John Bickley (Ukip)
The party has selected businessman John Bickley as their candidate. He seems to be a sensible choice since Bickley ran Labour close to the wire in the 2014 Haywood and Middleton by-election, where he secured 39.7% of the vote in the Greater Manchester seat against Labour's 40.9%.
Ukip are hoping to capitalise on Jeremy Corbyn's perceived unpatriotic credentials during the campaign after the Labour leader faced criticism for failing to sing the national anthem during a commemoration service at St Paul's cathedral and voicing controversial anti-war views.
"I used to believe in Labour. Like many in my family before me I thought that the Labour party believed in representing the hard-working people of our country," Bickley said. "That was a long time ago. Far from believing in the people of Britain, Corbyn's Labour party would rather sympathise with the IRA than sing our national anthem to honour our brave armed forces."
The candidate is also expected to restate Ukip's anti-mass immigration stance throughout the campaign as the issue still "dominates" people's concerns, according to an October survey from Ipsos MORI.
Please watch my campaign video for Oldham West and Royton. I can't do this without your help #BickleyBacksBritain https://t.co/BxObEf6Ev9

— John Bickley (@JohnBickleyUKIP) November 4, 2015
Jim McMahon (Labour)
But the personal attacks against Corbyn may not be as effective as Ukip would like since Labour's candidate Jim McMahon is seen as a moderate member of the left-wing party and beat Corbyn ally Chris Williamson to the candidacy. McMahon, a son of truck driver, is also the leader of Oldham Council and has warned Labour cannot take the election for granted.
"The eyes of the country will be on Oldham and they will be waiting for UKIP to take the feet from under us," he said. "We also know that the constituency isn't one place, but a collection of towns and neighbourhoods with different needs. We need a voice that can speak to the communities across the constituency from Hollinwood to Royton and Chadderton to Oldham."
Thank you so much for your support and thank you to the other shortlisted candidates for a good spirited campaign. pic.twitter.com/3G1eiX8KgY

— Jim McMahon OBE (@CllrJimMcMahon) November 6, 2015
James Daly (Conservative)
Elsewhere, the Tories will also want to put a good showing in at the by-election as the so called "Northern Powerhouse" devolution project has been continuously pushed by the chancellor George Osborne. The party came third in Oldham West in May with 19% of the vote and have now selected solicitor James Daly to contest the seat.
The 39-year-old Huddersfield-born candidate is a Rugby League fan, a "connoisseur of real ale" and serves as a councillor for nearby Bury North. Daly also secured a second place behind Labour in the Bolton North East consistency at the general election with 32.8% of the vote, 3.7 points down from his party's performance in 2010 as Ukip ate into his share of the vote.
"I feel incredibly lucky to have been selected this evening. I intend to stand up for the hard-working people of Oldham West and Royton on the issues that matter to them, and I know how to fight to get their voices heard. I will campaign tirelessly as the Conservative candidate here," Daly said.
Delighted and honoured to have been selected as the Conservative Party Candidate for the Oldham West and Royton by-election

— James Daly (@cllrjamesdaly) November 5, 2015
Yet to be announced (Greens)
The Greens expect to announce their candidate for the seat by 13 November after Simeon Hart became the left-wing party's first deaf candidate when he stood for Oldham West at the general election. Hart only secured 839 votes in May, putting his performance behind the party's national share of the vote (1.9% versus 3.8%). Surprisingly, Hart listed former Conservative prime minister Margaret Thatcher as one of his three political heroes – the other two being Nelson Mandela and Green MP Caroline Lucas.
"They inspired me because they achieved seemingly impossible goals and were 'firsts' in their chosen field – they inspired my aim to be the first deaf and British Sign Language (BSL) user MP," he said in April. The former Tory supporter and ex-Liberal Democrat member also campaigned to get BSL recognised as an official language like Welsh during the general election.
Jane Brophy (Liberal Democrats)
Jane Brophy will be leading the "Lib Dem fightback" at the Oldham West by-election after Tim Farron's party were reduced to just eight MPs following the general election. Brophy has an extremely tough task ahead of her as the Liberal Democrat vote collapsed in the North West seat in May. The party had won 19.1% of the vote in 2010 but that plummeted to just 3.7% at the general election.
Brophy, who was been a councillor in Greater Manchester for more than 15 years, used her first statement as the Liberal Democrat candidate to attack the government's proposal to cut tax credits. "The people of Oldham West and Royton need someone to stand up for them and the Liberal Democrats are the only party that will do that. Labour had the chance to oppose tax credit cuts and failed to do it," she said.
"The Tory tax credit cuts will affect 8,000 families in this area alone and it was only the Liberal Democrats who stood up for people by trying to stop these cuts completely in parliament.
"When it came to a crunch vote in the House of Lords, Labour just voted to delay cuts to child tax credits and UKIP's one MP voted in favour, while the Conservatives just cheered them on. We deserve better than that."
Jane Brophy campaigns to Stop Tax Credits cut hitting 8,000 Oldham families https://t.co/O2aLSBYVOY

— Jane Brophy (@Jane4OldhamWR) November 5, 2015