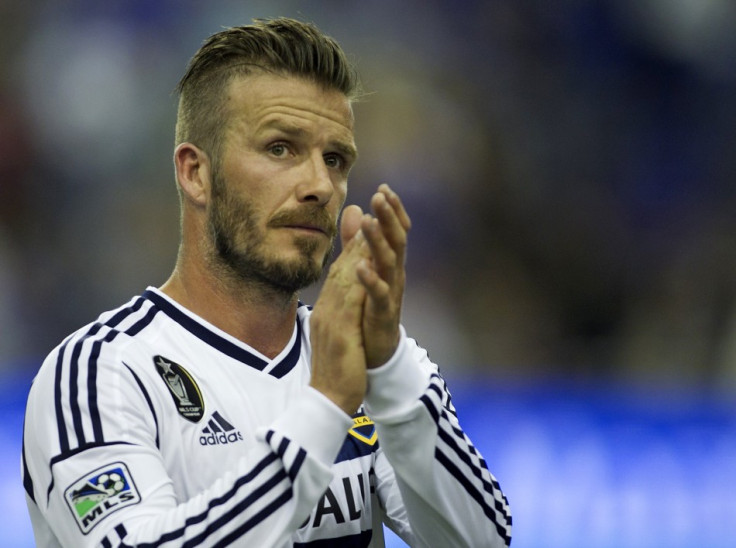 Former England national team captain David Beckham has stated he wishes to play for Team Great Britain, at the summer's 2012 London Olympic Games. The 37 year old, who last represented his country in 2009, is thought to be on a shortlist of players drawn up by manager Stuart Pearce.
"It's been an honour to be part of the process that brought the Olympics not just to England but to the part of London where I grew up. Everyone knows I would love to be part of the GB team. I need to keep myself fit and healthy, be in form, and then hope to get selected. I'd love to perform there," the Daily Mail quoted the LA Galaxy player as saying.
Beckham was at Wembley on Saturday before the England-Belgium game to collect a commemorative cap from UEFA for being one of only five men to have played more than 100 times for the Three Lions.
Meanwhile, Scottish cyclist David Millar has insisted he will take part in the London Games if he gets selected for Team GB. The 35 year old, who has served a ban for doping, is available to compete following a court case that forced the British Olympic Association (BOA) to drop their by-law on lifetime bans for athletes found guilty of taking illegal substances.
"I'm available. I spent a lot of time thinking about it, but I've concluded that if I can be of benefit to the team, I would be happy to help. The most rational thing is to leave it to the selectors to decide. If they think that including me might be in any way detrimental, even if, physically, I could be one of the strongest riders, I will respect any decision they make. I have spent time fighting the idea of lifetime bans for a first offence and it gets confusing if I don't make myself available," the Telegraph quoted Millar as saying.
Sprinter Dwain Chambers is also expected to compete for Team GB at the London Games after the Court of Arbitration for Sport overturned BOA's ban on the 34 year old for drug use.