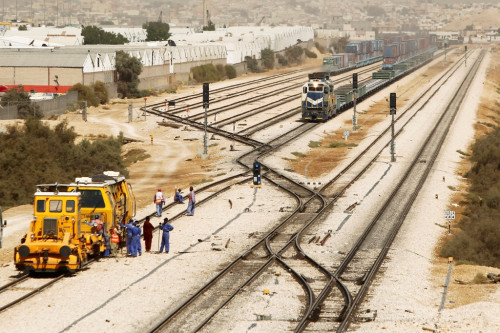 Oman is preparing to raise funds for a $3bn railroad project: its leg of the so-called Gulf Cooperation Council Railway which is expected to span 2,173 kilometers, from Kuwait to the shores of the Indian Ocean by 2018.
The railroad, when complete, would help global oil trade bypass the Strait of Hormuz, a waterway that accounts for 35% of seaborne traded oil.
The entire stretch, which passes through six countries, would dilute the impact of Iranian threats to close the Hormuz waterway.
Oman would consider conventional bonds and sukuk, the version conforming with Islamic law, as funding alternatives for the line.
The nation is looking to issue bonds by the end of 2014.
It could also structure some contracts as public-private partnerships under which winning bidders would take on a high level of financial and operating risk, said Abdulrahman Al Hatmi, a director at Oman National Railway.
International investors are also offering to purchase trains and lease them back to the government, Al Hatmi told Bloomberg on 6 February, on the sidelines of a rail conference in Dubai.
Railroad construction in Oman is expected to commence in the first quarter of 2015, according to Al Hatmi.
Stumbling Blocks
The $20bn (£12.3bn, €14.7bn) GCC railway will span six gulf countries – Kuwati, Saudi Arabia, Bahrain, Qatar, the UAE and Oman. The railway line would have to navigate harsh terrain, ploughing 161 kms through the Hajar Mountains that rise to 10,000 feet.
Work is most advanced in the UAE.
Saudi Arabia has laid 201 kms of track and is expected to award a design contract for the remaining sections of the line between Kuwait and the UAE border in two months.
However, Kuwait could end up building its 515 kms of track by the end of 2019, delaying the project by a year.
In addition, Qatar and the island state of Bahrain would have to be linked through a loop from the main line, requiring major engineering projects such as a $4.2bn bridge that would carry the track to Bahrain from Saudi Arabia.
"We are moving fast now," said Al Hatmi.
"One of the key changes we've made is to connect to [the southern port of] Salalah, which is the mouth of the whole region and will play a major role in transforming the whole logistics map," he added.
About 17 million barrels of oil was funnelled through the Strait of Hormuz each day in 2011, almost five times the total for the Suez Canal, the next busiest chokepoint, according to the US EIA.