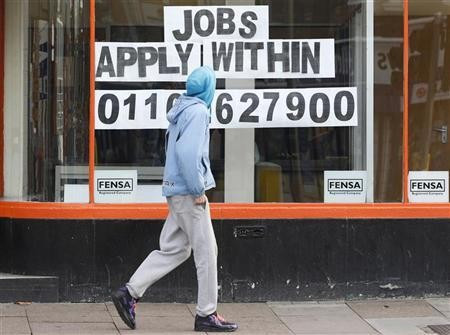 The number of employed people who want more hours of work, known as the underemployed, has rocketed by one million since the financial crisis, according to figures released by the Office for National Statistics (ONS).
This amounts to a 47.3 percent increase and exposes the country's labour market as weaker than many realised after a months of what had appeared to be robust employment data in the face of a renewed economic downturn and the longest double-dip recession since the Second World War.
Now one in ten workers in Britain are underemployed.
"Being underemployed carries a huge pay penalty that puts a real strain on people's finances," said Brendan Barber, general secretary of the Trades Union Congress (TUC).
"Long periods of underemployment can cause longer-term career damage, which is particularly worrying for the one in five young people currently trapped in it.
"We desperately need proper investment in high quality jobs so that full-time work is available for those who want it. This is the only way to secure a sustainable economic recovery."
A number of reasons may explain why a person is underemployed, such as an employer only being able to offer limited hours and low demand affecting the self-employed, the ONS said.
"The sharp rise in the number of underemployed workers between 2008 and 2012 may be explained by a combination of these factors," said the ONS report.
"The changes to economic conditions over this period include a fall in real earnings (earnings corrected for inflation) and a rise in unemployment.
"Both of these may have resulted in increased pressure on personal budgets and therefore increased desire for hours."
Most of the 3.05m underemployed workers in the country - 61.7 percent - are in part-time roles.
Underemployed workers also earned much less per hour than those satisfied with how much work they are getting.
Non-underemployed people earned £10.81 an hour on average, compared to just £7.49 for the underemployed.
Employment is growing and stood at a rate of 71.2 percent in November, though this is a broad category that includes anyone doing one hour or more a week of paid work, as well as those in full-time positions.
Underemployment is a problem for the government. People without job security and full-time pay are likely to be reliant on welfare to sustain them, or rein in their spending for fear of being out of work at any moment, which depresses consumer activity.
With a worsening outlook for the economy, as Bank of England and International Monetary Fund economists slash their growth forecasts, many predict the labour market to suffer in the coming months.
---
Follow @shanecroucher