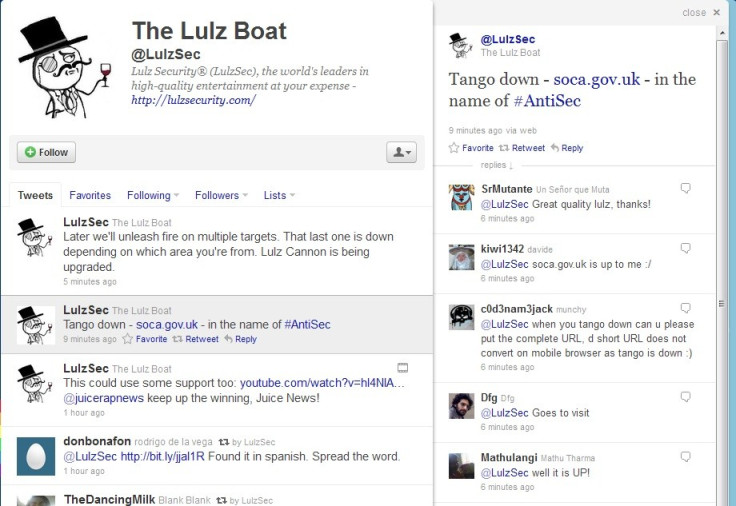 The hacker collective LulzSec has fired the first shot in its and Anonymous' new campaign against the world's governments and banks, taking down the U.K.'s Serious Organised Crime Agency's website.
The message first went up on the group's Twitter feed at around 1700pm BST, reading "Tango down - http://t.co/JhcjgO9 - in the name of #AntiSec".
SOCA's website was still down at the time this article was written. A subsequent post on LulzSec's Twitter page indicated that the group may well have targeted the site using a DDoS cyber attack.
"DDoS is of course our least powerful and most abundant ammunition. Government hacking is taking place right now behind the scenes. #AntiSec," tweeted LulzSec.
DDoS attacks overload websites and networks with requests to the point that they cease to function. Anonymous used the technique in its own campaign against the Turkish Government earlier this year.
LulzSec has since promised further attacks both from itself and its new ally Anonymous, tweeting, "We hear our #Anonymous brothers are making progress with #AntiSec, we also have reports of many rogue hacker groups joining in. :D".
Followed by, "Later we'll unleash fire on multiple targets. That last one is down depending on which area you're from. Lulz Cannon is being upgraded."
The group is expected to release information regarding further attacks on its website and Twitter page later today.
UPDATE: LulzSec claims to have hacked the U.K. census.
UPDATE: LulzSec has since denied responsibility for any involvement in the attack on the census' database.