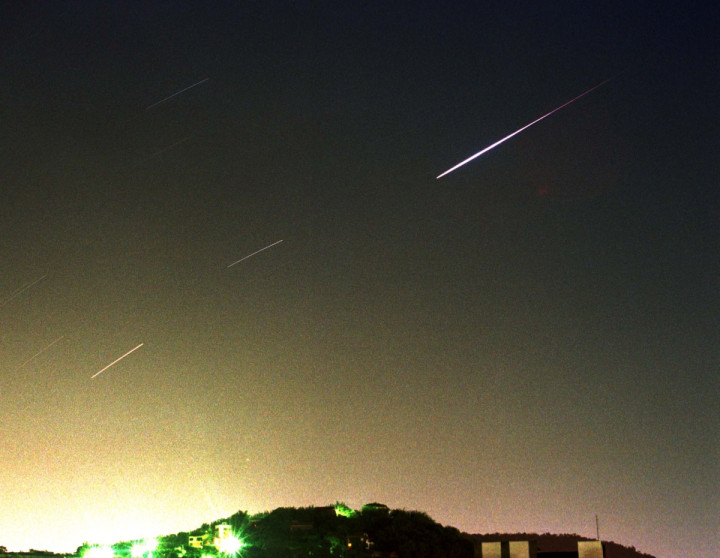 The annual Orinids meteor shower is set to be particularly spectacular this year as there will be largely dry and clear skies and there is almost no Moon to wash out the meteors this year.
The comets will rain down between midnight and dawn on 21 October with as many as 25 meteors an hour, but if you miss them, you can also look forward to seeing them between midnight and dawn on 22 October.
The Orinids meteor shower produced by the Earth passing through a stream of debris left behind by the famous Halley's Comet (even though it last visited Earth in 1986) as particles slam into and then burn up in the Earth's atmosphere.
The Orinids are named for the point in the sky from which they appear to radiate and in this case, the meteor shower will come from the direction of the famous constellation Orion the Hunter.
Where in the world will people be able to see the shower?
People living in North America, Europe, parts of Asia (except parts of Indonesia), countries in Africa and northern parts of South America will be able to see the meteor shower by looking towards the south-eastern sky.
However people who live in the southern hemisphere, including Australia, New Zealand, Africa, Antarctica and other parts of Indonesia will be able to see the shower by looking to the north eastern sky.
Where can I watch the meteor shower in the UK?
If you live near a city in the UK, you will need to get away from the light pollution. Here are a few suggestions of where to go, but be mindful that there will be some rain showers and cloud after midnight:
London - The WaterWorks Nature Reserve in north-east London near Clapton and Leyton Midland Road stations.
Birmingham - Warley Woods, which is accessible from the city centre, or Barr Beacon, the highest point in Walsall.
Manchester - Heaton Park, the largest park in Greater Manchester, or the Surprise View car park in the Peak District on the outskirts of Hathersage.
Edinburgh - Newbattle Abbey College (just off the B703 Newbattle Road), the Royal Observatory Edinburgh in the Hermitage of Braid or Blackford Hill Local Nature Reserve.
Glasgow - Mugdock Country Park (north of Glasgow), Muirshiel Country Park near Loch Winnoch, or Dams to Darnley Country Park.
Cardiff - Brecon Beacons (an hour away from Cardiff), or Dare Valley Park outside Aberdare Town Centre.
Belfast - Oxford Island National Nature Reserve (25 miles south of Belfast), or the Killylane Reservoir.
Where can I watch the meteor shower in the US and Canada?
If you live in Georgia, Alabama, South Carolina, Mississippi, Louisiana, Texas, Oklahoma, Arkansas, Missouri, Illinois, Indiana, Tennessee, parts of Kentucky, Michigan, Wisconsin, Iowa, Wisconsin, California, Arizona, Mexico, New Mexico, Nevada and Utah, you have a decent chance of seeing some meteors.
However if you live in the Northeast, Pacific Northwest, the northern Rockies or the High Plains, your view is likely to be obscured by rain storms.
How do I watch the meteor shower online?
If you are too lazy to go out or do not have a light pollution-free area to go to, you can watch a live broadcast of the Orionid meteor shower, which will be available via Nasa's Ustream beginning on 20 October at 10pm EDT / 9pm CDT (3am BST on 21 October).
You can also watch it on the Slooh Community Telescope website but its live stream only begins on 22 October at 1am BST (21 October 8pm EDT / 7pm CDT).