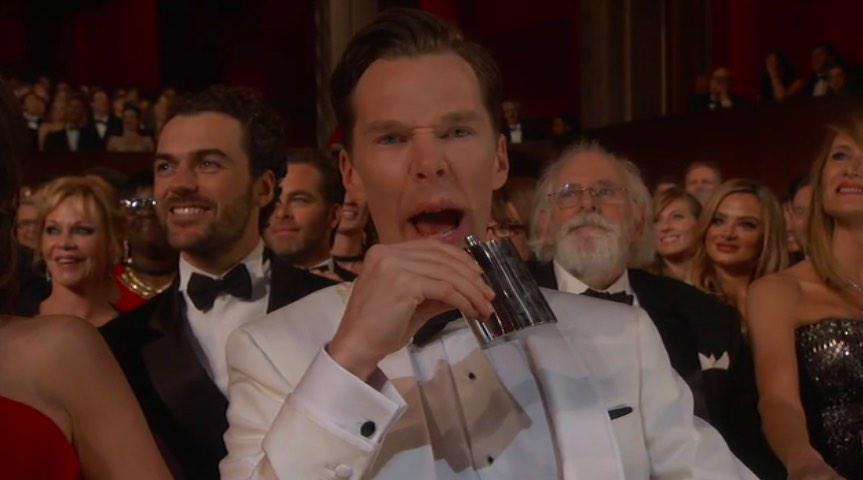 Staying true to his tried and tested awards show-hosting form, Neil Patrick Harris kicked off the 87th Academy Awards with a big musical number.
Stormtroopers, Roman centurions, Anna Kendrick, Jack Black and numerous classic films all played a part in the number dedicated to the "moving pictures" being celebrated tonight.
Kendrick and Black aided Harris with singing as jokes were aimed at Benedict Cumberbatch (seen above drinking hard liquor in preparation for his Oscar-loss in the Best Actor category later in the show), Harris himself and modern day Hollywood (courtesy of the furious rock-flavoured Jack Black performance).
Harris celebrated a long history of films by being super-imposed into scenes from The Wizard of Oz, Risky Business, Avengers, Star Wars, Field of Dreams, Ghost and many more.
The number began with Harris saying tonight would be a chance to "celebrate the best and whitest... I mean brightest," a timely joke levelled at the nominees list, which has proven controversial due to its lack-of diversity.
Anna Kendrick's role in proceedings involved her recent part in Disney musical Into The Woods as Cinderella, with Harris finding her missing slipper - which she later threw at Black to shoo him off stage.
The number was written by Frozen duo Robert Lopez and Kristen-Anderson Lopez, taking time out from counting all the money they've made from the beloved Disney animation.