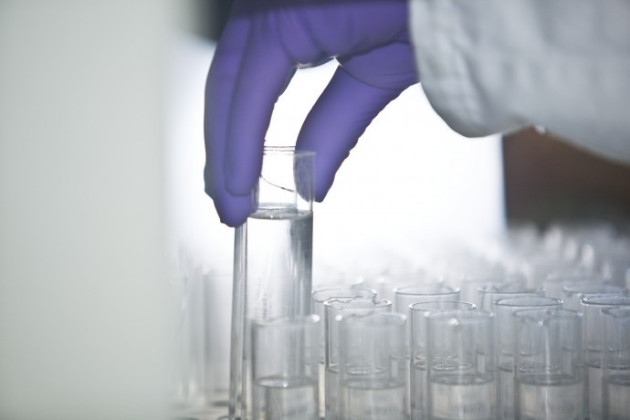 Scientists have proclaimed a breakthrough in their battle against ovarian cancer with the discovery of a drug that works on patients who have become resistant to treatment.
The news comes as researchers found survival rates for ovarian cancer patients in the UK were lower in Australia, Canada, Denmark and Norway.
London School of Hygiene and Tropical Medicine researchers found that the UK survival rate for the year following diagnosis was 69 percent, compared to 72 percent in Denmark and 75 percent in Australia, Canada and Norway.
In 2010, 4,300 women in the UK died from ovarian cancer - one death every two hours. It is known as the silent killer because symptoms often only present themselves at the later stages of the disease.
The new treatment was discovered by scientists at the University of Southern California. The research tested 80 new compounds and found that one, PACMA31, was extremely toxic to ovarian cancer cells.
It works by inhibiting a protein present in ovarian cancer cells. The drug is also irreversible, meaning it latches on to the cells and will not wear off until the protein has degraded.
There are two types of drug used in the treatment of ovarian cancer, but some women develop resistance to them. As PACMA31 works in a different way to them, it provides another option for women who do not respond to existing drugs.
Nouri Neamati, professor of pharmacology and pharmaceutical sciences at the USC School of Pharmacy, said: "We are exploring combination studies in order to find synergy between our drug and first-line therapy for ovarian cancer. When the patient has no other choice, we could potentially treat them with our drug."
He added that the researchers believed the new drug could also be used in the treatment of other forms of cancer.
Dr Emma Smith, senior science information officer at Cancer Research UK, said: "It's encouraging to see a new class of drugs being designed to treat ovarian cancer. The research is still at an early stage and has only been tested in mice, so more work needs to be done to determine whether this type of drug can become an effective treatment for women.
"Ovarian cancer is often not diagnosed until it is at an advanced stage, making it harder to treat. We urgently need better ways to tackle this disease and the exciting aspect of this research is that it opens up whole new avenues for potential treatments."
Robert Marsh, CEO of gynaecological cancer charity The Eve Appeal, added: "We wholeheartedly welcome any progress in ovarian cancer treatment, especially where the patients' cancer has become drug resistant. This is an encouraging development and although in early stages of testing, we will be following progress with interest."